How to Make an On-Demand Delivery App and Turn It into Successful Business
04.24.17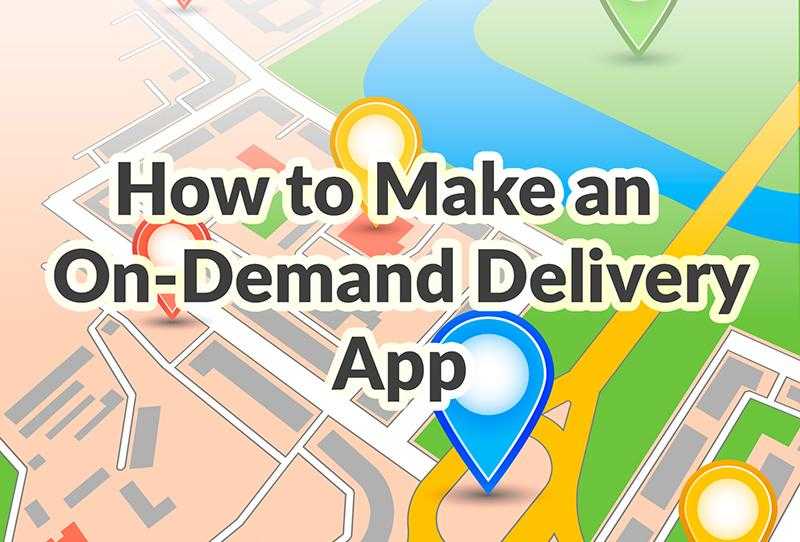 As technologies keep evolving, the number of new business niches emerge, grow, and prosper. One of the telling examples of such business niches are those linked to on-demand delivery apps. Having become popular only a few years ago, some of such companies are already an inherent part of our daily lives. The apps we're talking about allow you to request a product or service through a mobile app. Thus you can get it delivered right to your doorstep. They are commonly referred to as on-demand delivery apps, and there are grounds to assume that they'll be getting increasingly popular in the years to come.
Based on this, we made a decision to write about all the ins and outs of the trend and explain why it might be your best bet to make an on-demand delivery app. Itching to learn about the leaders on the market and major principles of making a successful on-demand delivery app? Read on to learn.
Who Are the Leaders on the Market?
At the outset, there's a need to clearly define what companies are leading the industry at the moment, and what exactly makes them as successful and popular as they are. Ready to learn? Then let's figure it out.
You should be living with your ears and eyes closed not to know about this company. Commonly called a trendsetter and industry disrupter, Uber boasts amazing business results. Founded almost eight years ago in San Francisco, California, the company has already grown into a transportation network available in 81 countries and 581 cities around the globe. At the moment, the estimated value of Uber has already surpassed the line of $51 billion. What's more, it boasts 40 million monthly active riders, which is an impressive statistics whatever way you slice it. There are many factors behind Uber growth, but the most important are the fact of its early-adopters positing and price surging strategy. This way, Uber remains top of mind for most of the people and is protected from economic instability.
Although not as famous and huge as Uber, Postmates is considered another example of a successful on-demand delivery app startup. The company's major target audience is millennials, who are known for valuing time and comfort more than anything else. No wonder they use Postmates to save time and effort on grocery shopping and preparing home-made meals. According to the most recent statistics available, Postmates has already raised more than $280 million and has over 7,000 business partners they work with on a permanent basis. The company operates in more than 200 cities and conducts approximately 2 million deliveries per month.
Another brilliant example of an on-demand delivery app is a startup Heal. The idea behind the company is rather simple, yet immensely important. With Heal app you can request a doctor visit right to your home. Maybe it's too soon to say that the company is disrupting the entire healthcare industry, but it has already raised over $27 million. At the moment, the app covers only major markets in California, including San Diego, San Francisco, Silicon Valley, Los Angeles, and Orange County. However, there are grounds to assume that the service will expand nationwide in the years to come.
For the simplicity reasons, let's just say that Wag is like an Airbnb for dogs. If you're planning a getaway for the upcoming weekend and it gives you hard times deciding what to do about your two dogs, Wag will solve the problem for you. Your new job makes it impossible to walk your dog twice a day? Wag will address the issue by finding a nearby dog-sitter for you and your four-legged friend. Wonder how much would it cost you to make an on-delivery app like Wag? Well, judging from Wag's experience, $6.45 million and 11 investors would be enough.  According to the company's data, people can make up to $17 per a 30-minutes walk with a dog.
One more telling example of how to make an on-delivery app and succeed is Lyft. With a business model similar to the Uber's one, Lyft is considered the second largest transportation networking startup in the US. Unlike its bigger brother, Lyft is only available in the United States (and it covers around 60 cities at the moment). It's said that Lyft is approximately 40% cheaper than Uber, which makes it a popular alternative to Uber among students and middle-income users. According to the most recent data out there, Lyft has around 315,000 drivers and as much as 13.9 monthly drives.
What Segments Can You Choose From?
If you're serious about the idea to make an on-delivery app of your own, you need to know what segments of the industry appear to be the most profitable and successful. So let's see what particular categories of on-demand delivery apps are available at your disposal.
Food and drinks delivery
Probably one of the most popular segments of on-demand delivery apps at the moment, and there are obvious reasons for that. As the pace of life consistently speeds up and people get more aware of the importance of healthy food choices, we all tend to face the same dilemma: to quite a lifestyle that leaves no time to make home meals or find an alternative. In case you choose the latter, you'll be amazed by the number of on-demand food delivery apps out there.
Home service delivery
Whether you need to fix a leaking tap or take care of your home garden, now you don't need to do it all by yourself (unless you want to). With apps like TaskRabbit or Handy, you can request a service of your need and enjoy the convenience of your life. What a great time to be alive.
Transportation delivery
Another popular segment of on-demand delivery apps are related to transport, and you'll be surprised to learn that your choice is not limited to widely-known Lyft and Uber. Such on-demand delivery apps like Gett, Fasten, or Wings are also up for the task. The good news is that the majority of alternatives appear to be massively cheaper than Uber.
But How Would You Grow and Retain Your User Base?
Ok, let's say you made a decision to make an on-demand delivery app. Also you chose the segment and found resources to make your idea come true. It might seem like the biggest part of the job is done, but it's a comforting lie people tend to tell themselves when they don't feel like doing any marketing. Assuming you are not one of them, let's see how exactly you can grow and retain your user base.
Use personalized push notifications
Push notifications can be and should be used as a gentle reminder about your existence and great services your company provides. Use this marketing tool to stay top of mind for your current users, and you'll be rewarded with great retention rates.
So wags the world that people love it when they feel valued. It won't cost your business a fortune to make some bonus rides/deliveries or sale coupons for each 10th purchase made. You'll be surprised to learn how much difference it can actually make.
It's a part of human nature to trust and listen to people we know and respect. Make the most out of this psychological phenomenon to make your on-demand delivery app prosper. Get in touch with trendsetters somewhat relevant to your industry and give it a try.
Remove the guesswork and learn the lessons from your statistics. Find out what features of your app are most widely used, how much time your users tend to spend on your app, and so on and so forth. This way, you'll be able to better understand your customer's behavior, which means better service and more retention.
What About the Cost and Features?
Ready to dig deeper and get some valuable details about the cost and features you need to be geared towards? Read on to learn.
Speaking of the features, make sure to include or consider including the following:
Customized and user-friendly design

Social media apps integration

Hassle free payment method

Order tracking feature

Push notifications about delivery status
As for the cost, let's say it all depends on the complexity and type of your future service. However, you should be geared towards a price of $20,000-$40,000 for the complete up. It needs to be pointed out that the cost is higher than for a regular mobile app of a social network or eCommerce type, which is completely reasonable giving the complexity of the task. Nonetheless, there is always a chance of finding professionals ready to deliver a quality job for a more reasonable price.
Speaking of the complexity, it goes without saying that making an on-demand delivery app requires skills, knowledge, and experience. So make sure to hire the team of best developers you can find. They can make the app a decent competitor to the companies that are already well-established on the market. Adoriasoft is the right-choice mobile app development team with sufficient expertise to make a successful on-demand delivery app for your business. Simply contact us today and get free project estimation!