How to Make a Fitness App Able to Compete with FitBit
05.22.17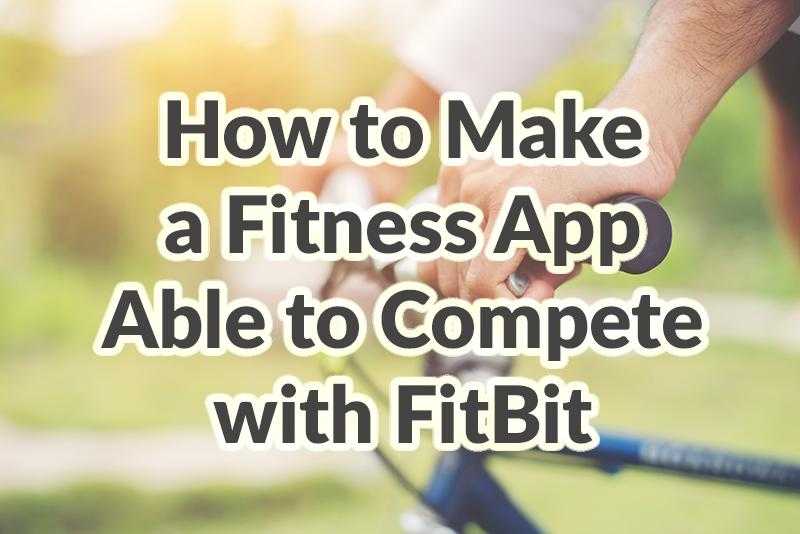 There are plenty of new trends popping up today. Some of them come and go before we even know it, while others seem to stay. A fitness app trend is surely about to stay. It's so because it's a trend of maintaining a healthy lifestyle and doing regular workouts. Thus millions worldwide are able to extend their life duration and improve its quality. Over the course of the last few years, people have started to change their eating habits, exercise more regularly, and value the power of sleep and meditation more than ever.
It's hardly possible to define one major reason that caused such a shift towards a healthier lifestyle. However, one thing remains perfectly clear: we have to be thankful for technologies at least to a certain extent. In the past, we had to talk to experts and pay them money for having our menu and workouts planned. Today, being fit and healthy is much easier, because all we need is just to download a fitness app, sometimes paid or sometimes free.
The best apps of this kind can set up individual workouts and keep us motivated along the way. Other, in their turn, can suggest the best food choices and inform us about nutrition facts. There are also apps that teach us to exercise regularly, and it's worth being said that they make a quality alternative to real nutrition specialists and fitness trainers. Given this, it comes as no surprise why fitness apps are among the most popular both in App Store and Google Play. In fact, more than half of smartphone users now have fitness-related apps downloaded onto their devices. Interesting fact: it's been determined that on average people spend 51% of their "smartphone usage time" on fitness and health-related apps.
Based on all said above, it becomes obvious why an increasing number of entrepreneurs try to find out how to make a fitness app and earn money on helping people get fitter. What a positive mission, right? The good news is that it's also profitable. Keep reading to find out what are the most popular fitness apps in 2017, their revenue levels and audiences, and how to make a fitness app that will be able to compete with the market leaders.
Most popular fitness apps on the market. What are they?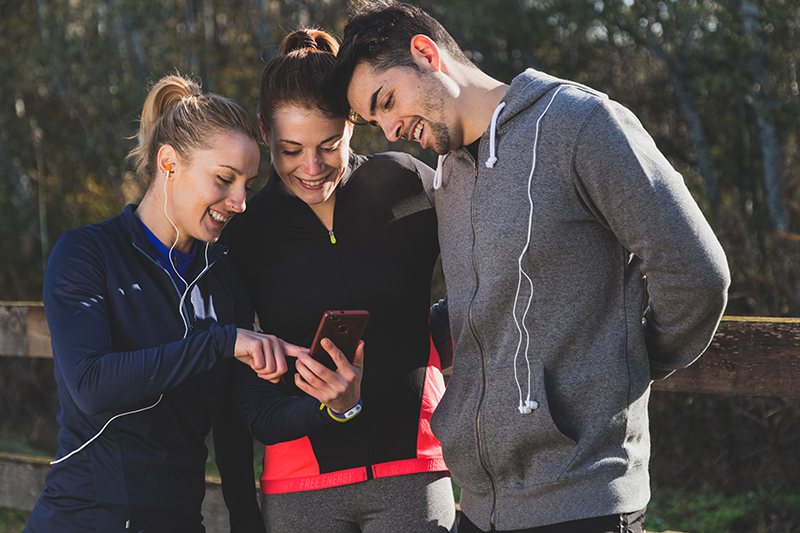 One of the obvious leaders on the market of fitness apps is Fitbit. This mobile application allows users to track their activity, record sleep time and analyze these records, log foods and create meal plans, and more. Apart from it, Fitbit has a community where people can set challenges and compete with friends. The company was founded back in 2007. Today, ten years later, it has already acquired a number of other fitness-related companies. According to the most recent statistics available, the company's annual revenue equals $2.17 billion.
Another company that knows for sure how to make a fitness app is My Fitness Pal. Thanks to this application, people can track their diet and activity, while determining an optimal intake of calories and nutrients. The app contains some elements of gamification to keep users motivated and interested in using it consistently. The app is free, but there is a 'premium subscription' option. It allows users to access custom reports and measurement tools. In 2015, the company was acquired by a sports brand Under Armour for $475 million.
As can be seen from the name of this app, it's a charity and fitness app rolled into one. While being a classic walking and running tracker, the company takes things one step further by encouraging users to walk, run, or cycle for the sake of people in need. At the moment, the app has already earned more than $2 million for charity. What a great example of how to make a fitness app that changes the world for better.
Another fitness app to be considered is Coach to 5K. As the name is pretty much self-explanatory, there's no need to tell that this app helps amateur runners to reach their first running goals. In 2012, the app managed to win the title of the best Healthcare & Fitness app. The list of features includes training plans, virtual coaches, human audio cues, distance and pace tracking, access to the running community, best performances tracking, just to name a few.
One more company that seems to know how to make a fitness app is PEAR Sports. According to the most recent data out there, the company has already earned $1.98K in revenue and around 6.91K downloads. The app offers a free 14-day trial for those who've never used it before. PEAR Personal Fitness Coach boasts such features as real-time personal assistance from World Champions, real human coaching, video content, workout packages, exclusive workouts created by popular sports brands like TRX, Minnesota Wild, and others.
Launched in Austria back in 2009, the company was acquired by Adidas for as much as $239 million six years later. According to TechCrunch, the app had more than 70 million active users and 140 million downloads at the moment of acquisition. The list of features of Runtastic includes but is not limited to personal fitness tracking, voice coaching, yearly and monthly running plans, live cheering and tracking, 'personal bests' records. The app is now available for iOS, Android, and Windows Phone users.  
Launched more than nine years ago, Runkeeper is one of the most popular fitness apps on the market. In 2016, the company already had more than 40 million users and was acquired by ASICS. Apart from classic features that the majority of fitness apps have, Runtastic allows running groups creation. It also provides easy Bluetooth connectivity, partner apps usage, fitness tracking integration, stopwatch mode, and much more.
The list of best fitness apps would be incomplete without Nike's great app. Not only is it one of the greatest apps of this kind, but it is also one of the most beautifully-designed ones. Named by some journalists a 'concierge for working out', this app is deservedly considered an app to look up to. According to official data, Nike managed to increase its sales by 56% in the last year, and there are grounds to assume that a branded fitness app played a significant role in this achievement. Seems like Nike knows how to make a fitness app people fall in love with.
Features to include in a great fitness app  
As you know by now, the fitness apps' market is booming, which means there's never been a better time to make a fitness app of your own. However, to make a fitness app that will stand out in the crowd is not an easy task. There are two steps to be followed. First, there is a need to find out what features make fitness apps successful. Second, a team of professional mobile app developers should be found and hired to make it true.
Let's take a look at the most popular features of fitness apps:
This feature is a must for any fitness app as it allows to track and plan walking or running routes. Without geolocation, it won't be possible to track fitness progression.
They say you cannot outrun your bad diet. This means that no matter how hard one workouts, it would be hard for this person to achieve a good health without eating the right food. Don't make potential users download specific apps for food tracking, make it a part of your own app.
Competition and social sharing
People are social creatures, and the best thing we can do is to take advantage of this fact. Working out gets more interested if people set goals and compete with friends. It's getting even better if one can share his or her personal best results and records via social networks.
Sometimes all of us need a timely cheer-up to keep going. Make voice coaching a part of your future app, and it will make people fall in love with it. Voice coaching feature is not so hard to develop, but it can make the world of difference to your users' fitness experience.
For those who are new to the world of sports, it might be exceptionally useful to have video lessons available from their fitness apps. Record some basic video lessons or go an extra mile and ask some sports celebrities to partner with you.
Although there are plenty of sleep tracking apps available on the market, it would be great if your app had this feature too. First and foremost, it is a source of additional information about users, which means that workout plans and advice will get more personalized and effective. Second of all, sleep tracking can make a fitness app a 'closed-loop' one. Needless to say, it's a good point to achieve.
The bottom line
Hopefully, now you have not only an idea of how to make a fitness app. If you also know why it's a  worthwhile to build the one of your own, then it's simply great. Think of how you can make your fitness app unique to differentiate it from competitors.  Lastly,  when aiming to enter the market filled with such strong competitors as Nike and Fitbit, make sure to hire the best mobile app developers. With an outstanding team of mobile development experts aboard you are able to outsmart even the leaders.
Adoriasoft has a remarkable experience in developing social and lifestyle mobile apps, including fitness apps too. Be sure that our mobile development team is capable of delivering top-notch fitness app for your business and for the needs of your customers. Contact Adoriasoft today and we'll provide you with a free project estimation!