4 Main Trends of Mobile Messengers 2016
08.05.16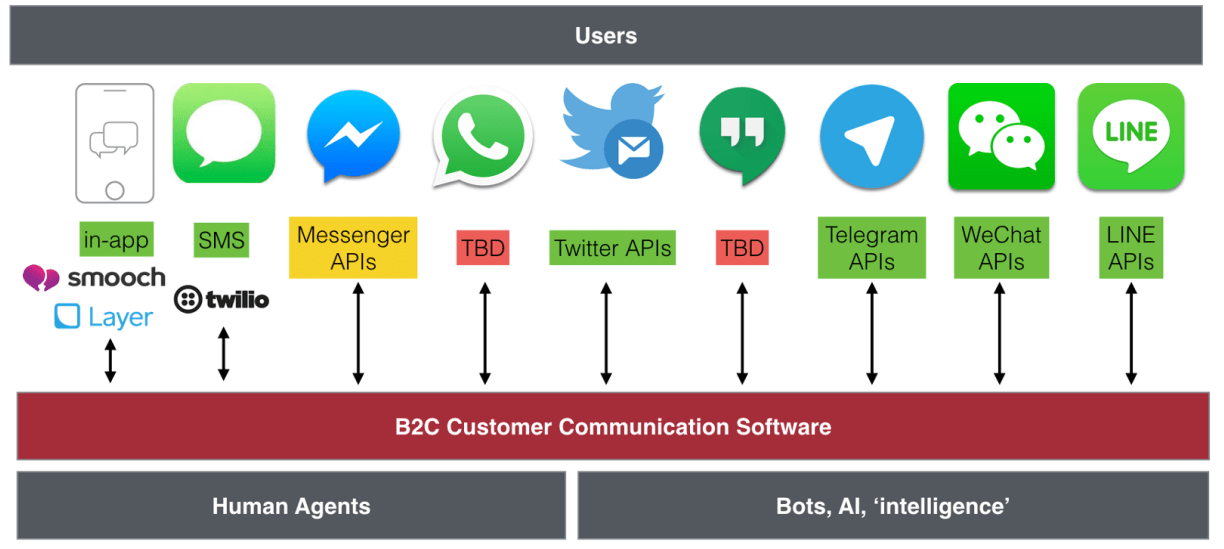 More and more business people pay attention to the messengers usage trend as a new platform for conversational commerce concept. Plenty of media have published articles and podcasts with descriptions and forecasts for the closest year's tendencies. Messages exchange is specification or a set of user's expectations which is applied to different markets, scenarios and approaches. In order to understand the messengers trends and popularity one should structure user's expectations, which are obviously different from one platform to another.
Users behaviour defines several features of messengers chats:
Message exchange is both synchronous and asynchronous according to the user's needs
Messages history in order to see the whole dialogue
Dialogues are listed according to it's recipients and usage (an essence of digital communications life)
Dialogues are not linked to its topics, which change quite often
Three important features that distinguish dialogue messengers from notifications messages are:
Reading or answering a dialogue message does not hide it from a list, but moves it up
You can see both sent and received messages in the the dialogue section by default
Most dialogues are linked to real people you often communicate with
A useful message exchange has become vital the most popular for every device now. And mobile messengers are a top mobile app category as well as a very fast growing digital startup market share.
Messengers advantages over applications:
Prevalence and ubiquity
Every messaging platform provides an ongoing connection to its users and their life habits. In a long term perspective brands will risk to sink in each new channel similar to what is happening now in mobile apps marketplace.
Technology activation: context and authentication
Every new platform features are closely connected to functions of previously launched popular ones. Being quite a late kid of mobile messengers and social networks technologies, messengers support always-on, location, camera, security, in-app purchases as well as social authentication and social graph.
Artificial Intelligence (AI)
Message exchange is a perfect type of interface for effective human-machine transactions. Written language lets to avoid difficulties with the voice recognition. Asynchronous feature gives the biggest number variations of automated responds. And finally, a combination of bots and live operators provides an optimal service for any user request.
Messengers market trends
Over the last 5-6 years there's been a global battle of messengers for users share. Thus, the market has become structured now. This is why 2016 is a year of four trends:
Providing access to message platforms for entire services (API)
SMS services like Twilio and Nexmo have spent more time and effort on elaboration of their API compared to any other instant messaging newcomers. However, sending SMS is unreasonably expensive and is likely to be optimized with Google's concept of Rich Communication Services. There's hardly a business model now which doesn't include API, integrations, bots and marketplaces.
Raise of "X assistants" and AI
It's usually clear when a user communicates with a bot. However, it is expected to be optimized within the artificial intelligence. Some of the assistance is rather specific, but the trend also includes products which try to function as aggregators.
Business segment of conversational commerce
This is not an obligation of users anymore to get information about goods and services. All messengers dialogues are perfectly personal and comfortable, which dramatically increases customer conversation as well as their retention. And this is still the responsibility of well-trained online-consultants as well as reliable software interfaces to assist them. Most small and middle size businesses will now let them to fundamentally increase their phone and/or SMS channels.
Infrastructure companies required for 1. and 2. functioning
Email marketing and direct communications is an older communication channels, which show what is essential for mobile messengers development of messaging services. It is about specific marketing, analytics and optimization tools, acquiring, personalization, AI etc. It is vital to train online consultants to operate users personal data and to establish effective relationship.
2016 is a year to prove that messengers are not only for private or personal usage, but for effective brand-user communication interface.