Hotel Apps That Are Made To Retain Customers
06.01.17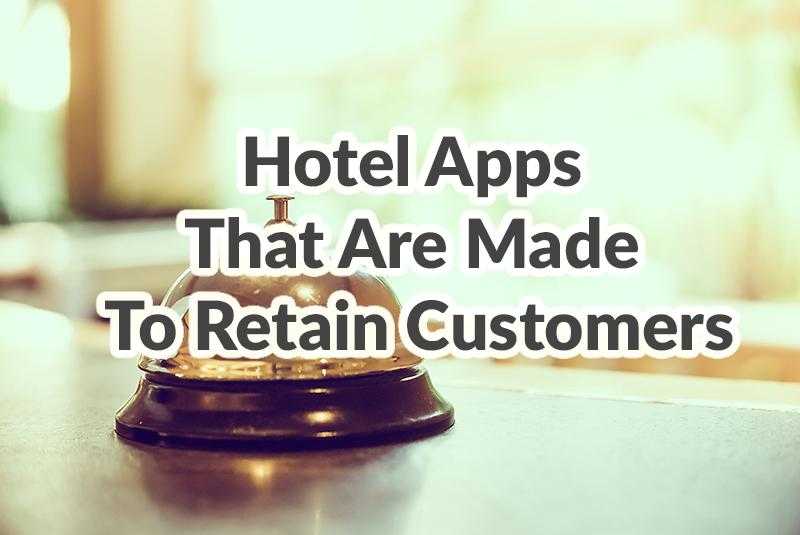 Today there are digital solutions to virtually all problems human beings might have. And while some critics choose to blame technological progress for eliminating the need of certain professions and increasing unemployment rates, others prefer to see new opportunities.
If you made it to the article, chances are good that you belong to the latter group. It's true that hotel industry is no longer as it used to be even 10 years ago. It is true that some of the jobs related to hospitality are now automated for the sake of a cost deduction and better performance. But it's also true that technologies in general, and hotel apps in particular, have changed the entire hotel industry for better, making it as customer-oriented as it's never been before.
So the topic of today is mobile apps for a hotel industry. Soon you'll find out how popular hotel apps market is and learn about the best mobile hotel apps out there. Also you'll know what features should a great hotel app include in order to serve the purpose of attracting new customers, building brand awareness and staying competitive.
The market of hotel apps is blossoming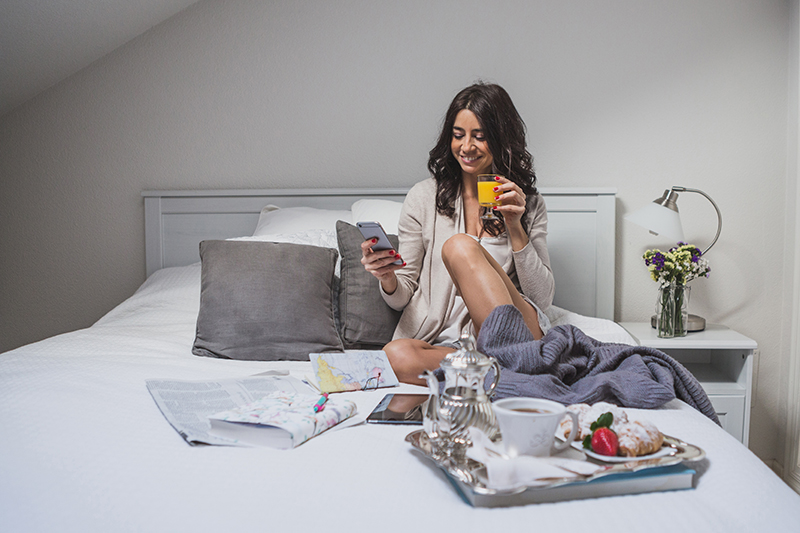 It goes without saying that hotel industry is as profitable as it is competitive. According to statistics, the global industry revenue from hotel business reached $550 billion last year, and there are grounds to assume that the numbers will increase over time. As hotel industry experts claim, as much as 65 percent of upper-midscale and luxury restaurants now have a mobile app for check-ins and other services. In fact, hotel apps are believed to be the major industry trend in 2017. Given all this, it comes as no surprise why an increasing number of hospitality business owners and entrepreneurs consider the idea of building a hotel app of their own.
The most popular hotel apps that succeed to retain customer
By now you know that the trend of hotel apps is gaining momentum. This means now it's time to take a look at hotel brands and companies that got it right about how to build a great hotel app.
Available for both iOS and Android users, Hyatt Hotels mobile app is a great example of what a modern hotel app should be. At the moment, the app allows users to book rooms in more than 600 hotels and resorts of the Hyatt chain. What's more, users of this app can enjoy exclusive discount rates and member benefits that are out of reach for others. In this app, one can check-in and check out on the go, track room charges during his or her stay, as well as request items delivery (towels, toothpaste, and so forth).
This user-friendly app promises a legendary service at your fingertips. With this app, users can pay for their stay via Apple wallet, browse for nearest hotels of the chain, make reservations and change them if there's a need. What's more, they can enjoy priority upgrades, request items and service to be delivered to their room, and track the history of their stays and activities. The app is available on the App Store and Google Play.
Another great example of a hotel app is Marriott International's one. Just like the majority of other apps of this kind, it provides more convenient stays, easier booking, and additional benefits for app users. With this app one can view and manage reservations, get priority room assignment. Also guests are able to collect Marriott rewards, make requests for towels or other common pleas, and many other. What's especially interesting is that iPhone users can now even user their phones as an e-key to open their rooms, access gym, or other places when a key might be needed. The app can be downloaded from the App Store or Google Play for free.
Hilton's hotel app named Hilton Honors is another app to look up for. Armed with this application, customers of Hilton can book rooms and access special offers, use their bonus points for free nights and plan their trips with in-built maps and directions. They can also check-in and choose an exact room, as well as order food or drinks or anything else to be delivered in their rooms upon arrival. Just like in Marriott's app, users can unlock their rooms with a mobile phone. More details about this app can be found in the App Store or Google Play.
Starwood
Commonly referred to as SPG app, this mobile app is one more example of a quality hotel application. Users of this mobile app can browse and book hotels of the chain, enjoy keyless access to their rooms on online check-in and access the most recent promotions and special offers of the brand. The app is now free for both iOS and Android.
Thanks to this third-party app, people can search for hotels and book rooms in a matter of clicks. The app of Hotels.com allows users to easily discover perfect hotels, get exclusive offers and special prices, make lists of favorite hotels, collect bonuses and use them for free nights. What's more, the app supports integration with Facebook, which means people don't have to waste time on registration and sign-in.
One of the most popular apps for searching and booking hotels, Booking.com is another good example of a well-thought-out hotel app. Not only one can search for hotels by location and filter results by price, amenities, and rating, but they also can get special deals, specify arrival time and room preferences. What's more, Booking.com app can synchronize with one's calendar and Google, which makes it impossible to miss arrival date or get lost in a new city.
It is hardly possible today to find someone who's never heard about Tripadvisor. The service for finding and recommending hotels and restaurants has become even more user-friendly thanks to its mobile app. This great app compares hotel prices from more than 200 booking sites, browse millions of reviews, provide answers to very specific questions, as well as allows users to send their own reviews with photos. The app is available for both iOS and Android users.
One more amazing hotel app is HotelTonight. Thanks to this app users can search last-minute deals, get the best prices, book rooms in only 3 taps, and filter for specific types and categories of hotels. Apart from it, they can receive a 24/7 customer support (from real people) if there's a need. The app is especially good for discovering last-minute offers and having spontaneous trips. HotelTonight app is available for free on the App Store and Google Play.
One more popular hotel app is JetSetter. The idea behind JetSetter is to help people plan and book their vacation. By means of the app users can search and sort thousands of hotels, book them or save for the upcoming trip. The greatest part about this app is that JetSetter recommends only those destinations its team has investigated personally. That's why users can rest assured that all hotels listed in the app are top-notch. The app can be found either on AppStore or Google Play.
Reasons to introduce hotel apps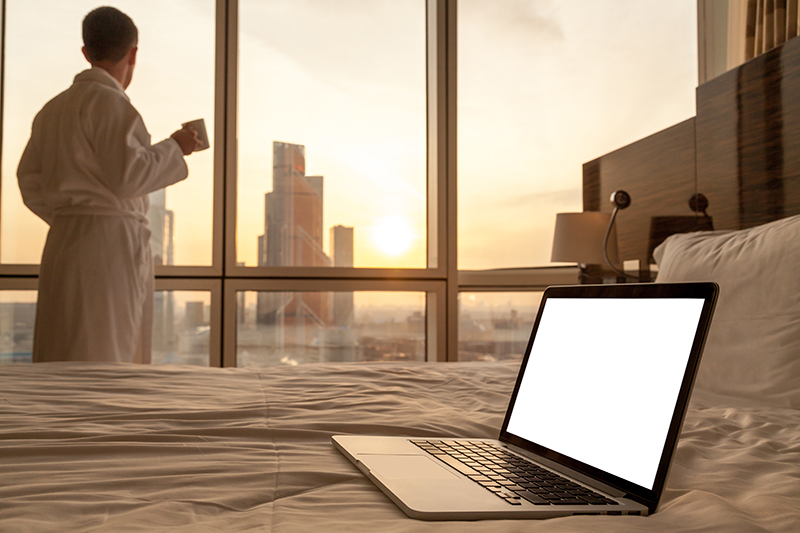 To attract and retain customers
Mobile apps are a great tool for customer retention. When people have a hotel's app on their phones, hotels can send them push notifications informing about best prices, upcoming events, and discounts. What's more, it is possible to use mobile app for getting feedback and recommendations from customers. This way, hotels can collect useful information and improve their services over time.
To keep up with the industry trends
When virtually all industry giants have mobile apps of their own, others have no choice but to follow the trend. Given that the biggest hotel chains like Hyatt or Hilton have already built and released their own hotel apps, smaller chains should do the same in order to remain competitive.
To encourage last-minute deals
Vacancy rates are one of the major pain points in a hospitality industry. With mobile apps, it becomes possible to close more deals by sending loyal customers last-minute offers they won't manage to resists.
Key features to include in hotel apps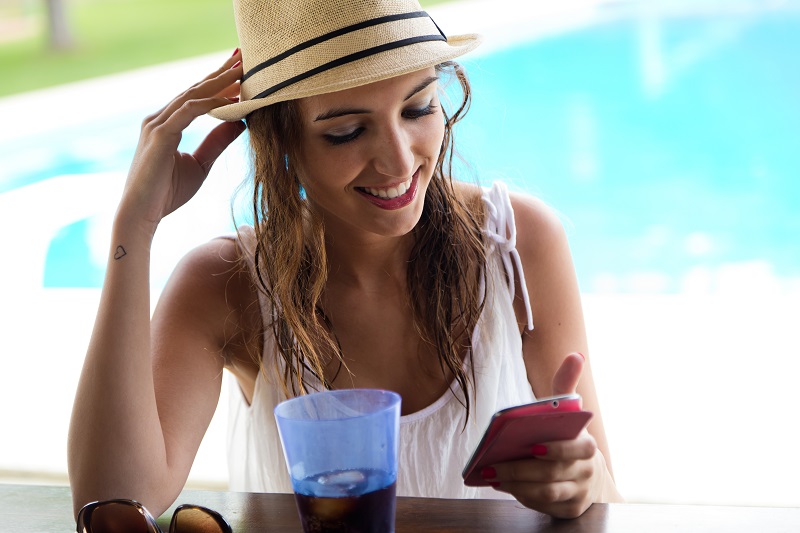 Integration with Facebook
It is not reasonable to ask users to spend time on registration and login when it is possible to integrate their Facebook accounts into an app. It saves time and effort, hence makes an app more user-friendly.
Online check-in and check-out
This easy-to-implement feature can improve the experience of customers significantly. Who wouldn't want an online alternative to a standard and time-consuming procedure?
Requests for room service or item delivery
Back in the past, people had to make a call to order a room service or breakfast. Make it possible with an app, and the payoffs will be huge.
Keyless access to the room
Consider including a feature that will let users open their rooms or access gym without the need for keys. This smart door technology allows customers to control and manage locks with a smartphone. There are different variations of this technology: some of them work thanks to a smart device placed on the existing lock, while others require an entire new lock system. Anyway, opening a door with a smartphone should be a cool experience.
Wrapping up…
Now you know all the ins and outs of hotel apps industry, as well as what features to include in your own app. But there is one more thing you should remember. Building a hotel app is slightly more difficult than building any other app. It requires integration with other services and involves money transactions. So if you're serious about building a hotel app, make sure to hire the most professional mobile app developers.
Mobile app developers at Adoriasoft are experts in building great mobile app solutions for various industries. So it's no wonder that we're ready to provide you with the smoothest working mobile apps that you customers will use easily and with pleasure. Don't hesitate to contact Adoriasoft today and receive a free estimation of your hotel app project!