Free Stock Trading Apps Like Robinhood: How to Develop Them?
05.08.17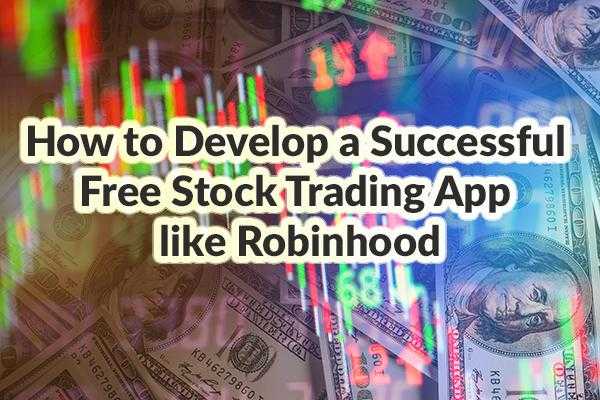 You need to live with your ears and eyes closed, in order not to see how significant the world has changed over the last five years. As the number of mobile Internet users has surpassed the number of desktop ones. While the entire market has made a significant shift towards mobile-friendly websites and, most importantly, mobile apps. It seems like now we have apps for virtually any task you can imagine. There are dating apps, driving apps, payment apps, apps for workouts, apps for healthy eating, and so on and so on. But apart from apps that can be used in our private life, there are ones designed to change the way people do business.
A telling example of such business-oriented apps is free stock trading apps. If you're connected with the financial world of trading and investments, you've surely heard about such apps before. But even if you haven't, this article will help you understand all the ins and outs of this new trend. Ready to learn? Then let's dive right in.
What are free stock trading apps?
For the starters, let's make it clear what exactly should be understood by the term 'free stock trading apps' and what the major idea behind them is. Since the term is relatively new, you'll hardly find a detailed definition on the Internet.
However, it is safe to say that free stock trading apps are mobile applications, offering commission-free trading of equities and exchange-traded funds. For example, EFTs, with a significant execution speed, as well as free real-time data.
Thanks to the simplicity of these apps, they are suitable for both experienced investors and newbies. Furthermore, there are good reasons for that. Free stock trading apps can give you valuable insights about the "hottest" investment opportunities in real time. Any professional trader would agree that in this niche, a fraction of a second can make or break the entire investment initiative. That's why free stock trading apps, which provide real-time updates, are getting increasingly popular these days.
Who are the market leaders and thus your competitors?
Given that the popularity of stock trading apps has been growing over the past few years, there is now more than one company in this niche. There are dozens of options to choose from, but we've decided to focus on the best ones only. So get ready to meet the "fantastic five".
The all-time leader in the niche is a stock brokerage app Robinhood. Launched back in 2014, the company prides itself on being "a stock brokerage built with the needs of a new generation in mind." At the moment of launch, the company already had a wait-list of more than 500,000 people itching to give it a try. It is worth being mentioned that Robinhood bets on Millennial investors. Based on this, it comes as no surprise that the average age of Robinhood's users is 26.
While as much as 25 percent of them are first-time investors. Apart from obvious benefits of this app, it is also a winning one in terms of UX design and usability. Thanks to this, Robinhood managed to become the very first financial app to win an Apple Design Award. At the moment, Robinhood is available for iOS and Android users. At the beginning of 2017, the app has been valued at $1.3 billion, which is an impressive result even for the world of tech startups.
The next great example of a stock trading app is E*Trade Mobile. Unlike Robinhood, it's not free. However, it's a very popular and easy-to-use app too. Given the success of this app, it feels like the founders could predict it and inserted the little star into the company's name with a purpose. According to the most recent statistics out there, the company's revenue has almost reached $2 billion. Due to the app's feature of voice search, it becomes possible to locate stocks at a speed that would otherwise be out of reach.
At the moment, E*Trade Mobile lets users trade a lot of different securities. For example, ETFs, stocks, mutual funds, and etc. You can easily access all relevant news from MarketWatch, Morningstar, Briefing, and other industry-related media outlets. Moreover, you don't need to leave the app. Are you ready for the best? You may download this app to your Apple Watch. Thus you can stay abreast of all recent news even when you're working out outside or whatever.
Another stock trading app that requires your thorough attention is TD Ameritrade Mobile. Being a part of a big brokerage firm founded back in 1975, today the company has its own mobile application. Moreover, it is good enough to compete with industry leaders like Robinhood, E*Trade Mobile, and others. The app allows trading of options, futures, equities, and Forex. Just like in most of the apps of this kind, TD Ameritrade Mobile lets users keep the track of all relevant news. What's more, the app offers a so-called expertise feature that makes it possible for users to get financial and investing advice. If that's not enough for you to choose TD Ameritrade, here are some extra benefits. Firstly, the app has a built-in chat. It allows you to talk to other traders and learn about upcoming trends from them. Secondly, you can transfer cash or deposit checks by simply taking the pics of them with your smartphone camera. Magic? Kind of.
TradeHero
Speaking of this company, it turns to be exactly what it sounds. Even if you are only about to make your first steps in the world of trades and investments, you're going to feel like a trade hero with this mobile application. Generally speaking, the mission of TradeHero is to help first-time investors practice their skills by trading in a safe environment. With this app, you can test your knowledge, hone your skills, or simply try new strategies with no financial risk involved.
The app gathers all the real world data, simulates stock exchanges from all around the globe. Moreover, it gives your a fantasy-like $100,000 and lets you experiment with new tactics and approaches. In some way, it feels like a social network for traders-to-be. Because you can build your portfolio and compete with other users. What's more, the app provides video tutorials and tips from industry experts completely free of charge. According to the most recent data provided by Crunchbase, TradeHero managed to raise almost $10.5 million during the two rounds of investment.
The last but not least app to pay attention to is Betterment. Founded almost 10 years ago in 2008, the company has managed to attract around 168,000 active users. According to the words of Betterment's CEO, the company is on the mission "to reinvent the investing industry so that it would work as we want it to". All it takes to start using Betterment is $1. Then you give answers to a couple of simple questions. And the app starts to invest your money and monitor all trends and changes over time. This makes Betterment a cheaper and less annoying alternative to traditional financial advisers. What else could we ask for?
Who might benefit from your free stock trading app?
Now, you are already familiar with the best free stock trading apps. So, it's time to figure out who needs and uses them frequently. In other words, let's see who the target audience of such mobile apps is and how numerous it is. Ready for some insights?
We've researched the topic thoroughly. And we managed to identify at least four groups of people, who might need free stock trading apps like Robinhood or TradeHero. They are as follows:
Young people willing to figure out whether or not trading and investment are for them.
First-time investors who lack experience and skills, but want to start their career in trades right away.
Professional investors who value their time and don't want to spend hours researching the most recent trends on the market.
Tech-savvy professionals who enjoy having an access to all information they need in one place.
What features should successful free stock trading apps include?
Now, it's time for the most important part of the article. It's time to learn what features should an app include, in order to become as popular as Robinhood. Examining functions of all the biggest players on the market, Adoriasoft developers have come up with the following features for your future free stock trading app:
Ultramodern account protection
Advanced level of security and encryption to empower users to be in full control of their accounts is of utmost importance. Personal user data like balance, history of transactions, etc must be safe in the app. Otherwise, you will not attract customers to your app in the long run.
Adoriasoft has a profound expertise in encryption algorithms and security technologies that help to make any mobile app solution an ultrasafe one. Especially for financial businesses and their consumers.
Commission-free brokerage
By automating all the manual processes that are costly, you may succeed with your free stock trading app just like Robinhood. Adoriasoft is ready to help you with automation and optimization of your fintech business of any kind.
Efficient UI and UX
There are a few things that can offer that level of a magnificent UX that Robinhood provides. First of all, a future fintech businessman must order a one-of-a-kind, slick UI design. Second, you need a prototype developed by professionals. They will think out the search functionality and navigation really well to streamline the process of locating stocks.
The mobile developers at Adoriasoft, teaming up with UX designers, will not let any details out of their sight. Adoriasoft specialists will work hard to provide fintech app users with the best functionality possible. Especially, when it comes to the optimal performance, usability, and convenience for users. Thus they will be able to create and manage watchlists, preview and place orders. As well as search for exchange and get quotes in a blink of an eye.
Valuable integrations
Users of free stock trading apps must always stay abreast of all industry news to be able to make effective trading decisions. So integrating the app with relevant newspapers and media channels will definitely help them get an easy access to that information.
Easy communication
For all traders and brokers it's also vital to be able to communicate with one another. So free stock trading apps should go with a ubiquitous and clear chat functionality. It will help app users to share their opinions and professional advice.
Monetization through extra products
If you plan to launch a free stock trading app like Robinhood, then prepare to offer additional products to actually make money from your business. For instance, you may provide a superior service of longer hours trading, which exceeds regular hours offered by your free app. Thus you will keep your existing base of free users.
And, additionally, will attract the audience of those who seek more advanced possibilities to invest. Also, don't forget about gathering interest on securities and cash in user accounts of your free stock trading app. But still, you'd better charge no commission on trading operations if you want to succeed in a free stock trading app market.
By the way, if you want to know more about how to monetize your app, we've got something for you. Take a look at the 10 tried and true approaches to mobile app monetization and learn how to earn money on your project.
To sum up…
Given the number of high-quality apps already available on the stock trading app market, it will be hardly possible to make a profitable business with an average app that offers nothing but some basic features. That's why we cannot stress enough the importance of hiring professional mobile app developers who'll be able to create a free stock trading app of the same quality and usability level as Robinhood.
With Adoriasoft as your IT consultant and mobile app development team you may rest assured that your planned idea will be implemented. Within your desired timeframe and on your budget. Contact us today to get a free consultation and estimation of your stock trading app project!