Top 10 Word Card Games for Mobile Devices
07.27.17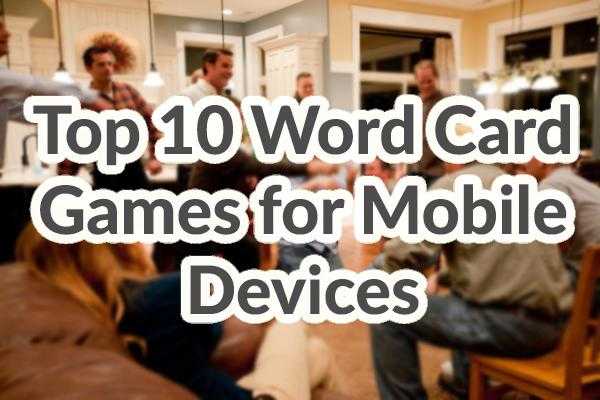 People love to play games. Actually, it's a well-documented fact. Games come in all forms and shapes. There are table games, video games, VR games, mobile games, and games to be played outdoors. Some games are perfect for a big company, while some are meant to be played in pairs. With all this variety of games, it comes as no surprise that an increasing number of entrepreneurs see huge potential in game apps.
It might blow your mind, but the global revenue from mobile games managed to hit a new record last year by generating as much as $40.6 billion. This year, mobile games are responsible for 42% of overall games market which translates into $46.1 billion and demonstrates a significant increase compared to the previous year. This statistic points unambiguously to one thing: games for mobile devices are here to stay. Moreover, they can be an amazing source of income for their owners and developers.
According to Verto Analytics, puzzle games and word card games, in particular, are ranked the most popular genre of mobile apps. That's why today our focus is on them. Keep reading to learn which word card games run the show in 2017 and what particular features help them be such a big success.
Word Card Games: What Are They?
First and foremost, it makes sense to clarify what should be understood by word card games for mobile devices. Luckily, there's no need for complicated definitions. The term is pretty much self-explanatory. Word card games for mobile devices are a digital alternative to a classical word game or charades game our parents (and even parents of our parents) used to play back in the past.
Chances are good that you've heard about them or played them at least once. In case you haven't, the idea of charade games is simple: the first player picks a card with a word on it and explains the meaning of this word (without naming the actual word) to the second player. This game was not supposed to be played online in the first place. However, time changes everything, including the way we people play.
When and Where Do People Play Word Card Games?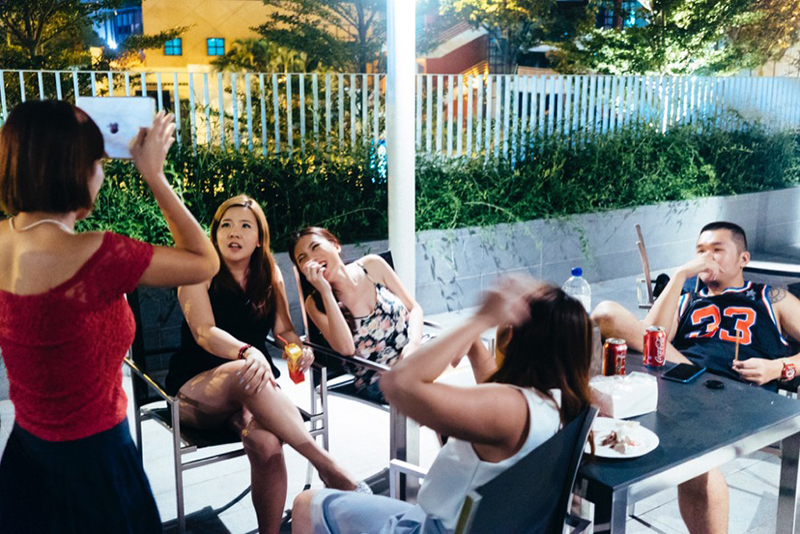 Although word card games are played all around the globe, certain countries seem to be especially obsessed with this game genre. It turns out that the history of charade games dates back to the early 19th century. The game was invented in France and became popular all around the globe during the First World War. Years later, the acting form of charades inspired a number of popular TV shows in Europe, North America, and Australia. The most popular among them are American Play the Game, Pantomime Quiz, Celebrity Charades, and I'm Sorry I Haven't a Clue.
There is no particular day or season when these games become especially popular. However, they're known to be a good choice for house parties, family evenings with kids, as well as student gatherings.
Top 10 Word Card Games for iOS and Android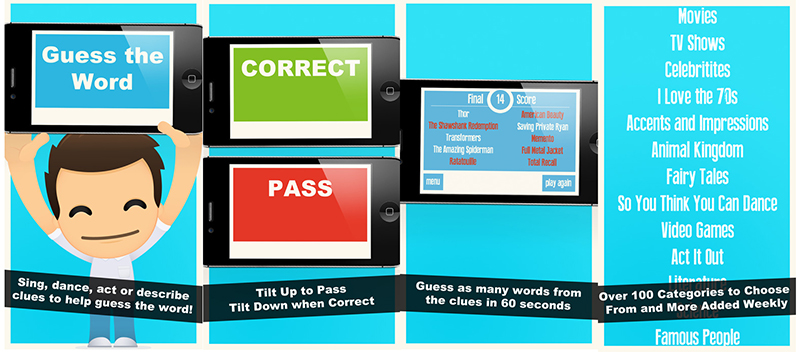 Available for both iOS and Android users, this word card game is one of the most popular online alternatives to traditional acting charades. In fact, it is one of the most popular word & card games in the US. This logic of this app allows people to play either with one friend or a team of one hundred. Needless to say, this app removes the need for paper cards but allows people to dance, sing, act, and sketch for the sake of victory just like a traditional old-school game. Users can choose among 100 themed decks and more than 400 gameplay cards. This means hours and hours of playing with no chance to get bored.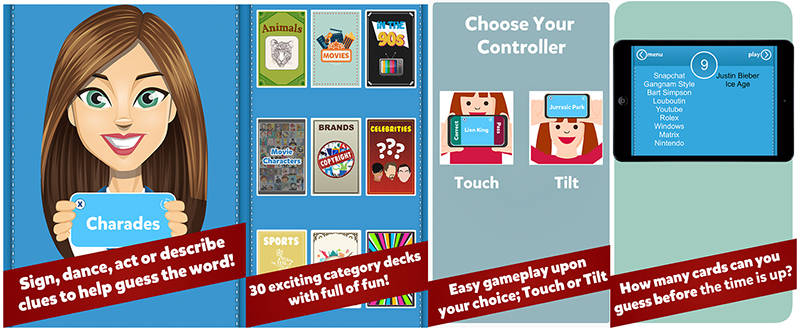 Another word card game that deserves to be on this list is Charades Up. A good alternative to traditional charade game, Charades Up is a popular word card game for mobile devices. The best thing about this game is that its decks include TV shows, characters and movies, foods and drinks, animals, brands, companies, and even superheroes. No way to get bored or run out of creativity. It goes without saying that this game can be played either with one friend or in a large company.
Boba Charades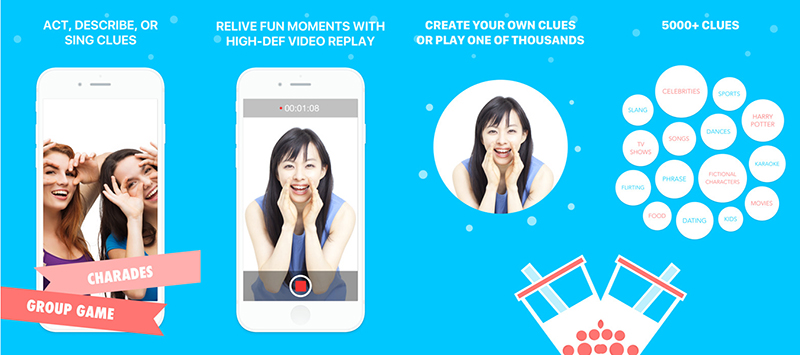 One more app that makes a great online alternative to traditional word card games is Boba Charades. What makes this game special is that its rules are just the opposite to traditional ones. Instead of one person acting out clues and the group guessing, there is a group acting and only one person to guess. Users are allowed to customize this game by creating clues on their favorite topics (it takes only a couple of seconds to create one). The best part is that there are more than 5000 clues to choose from. The app is available for both iOS and Android users.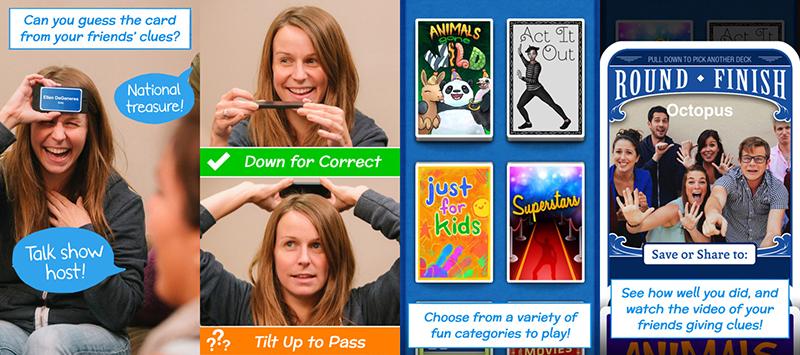 Believe it or not, but Heads Up! Is actually the second most popular paid mobile game on the App Store. This is a word and card game with millions of downloads in the US and worldwide. This game features over 40 themed decks, allows users to record videos of especially hilarious moments of the game and share them on Facebook in a matter of clicks. The app boasts diverse categories which makes it cool for people of all tastes and interests. Clearly one of the most successful apps of this genre, it is available for iOS and Android users for free.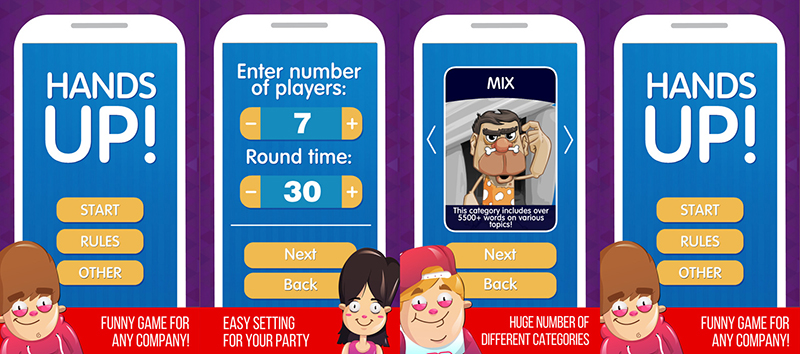 The next word card game app that deserves a place on the list is Hands Up! Charades. A nice alternative to traditional charade game, it makes is possible to play the game with no equipment. One player needs to put his or her phone against a forehead, the words for guessing will appear on the screen. In the case of success, one should tilt the phone forward. In the case of failure, tilt it back. The app is available for downloads from the App Store and Google Play.

This word card game is a little bit different from the rest on this list. The goal of players is to guess the common word uniting four pictures or GIFs. The game boasts over 600 classic levels, but users can also create customized ones themselves. What makes this word card game especially interesting is that it features weekly contests. It also lets you seek advice or help from friends on social media if you're stuck on a certain level of this game. The app can be found on the App Store or Google Play and downloaded for free.
Pregame: Charades Free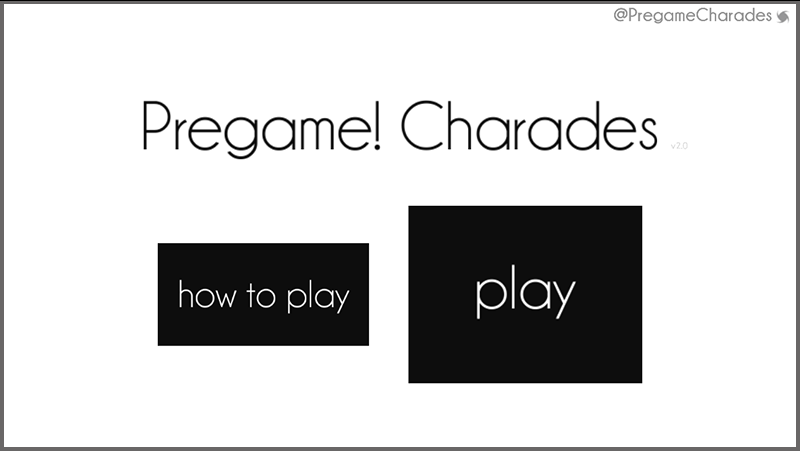 This one is special. It's been created as the solution to monotonous and predictable college parties. Basically, it is an online alternative to popular beer pong and games of this kind. This charade-like game is filled with some black humor, a nostalgia of the 90s, and much more. If you read the titles of game decks you'll surely get the idea. GoneWild, Babes, and Bottoms Up is just a few of them. This word card game is for adults only, and can be downloaded from the App Store and Google Play for free.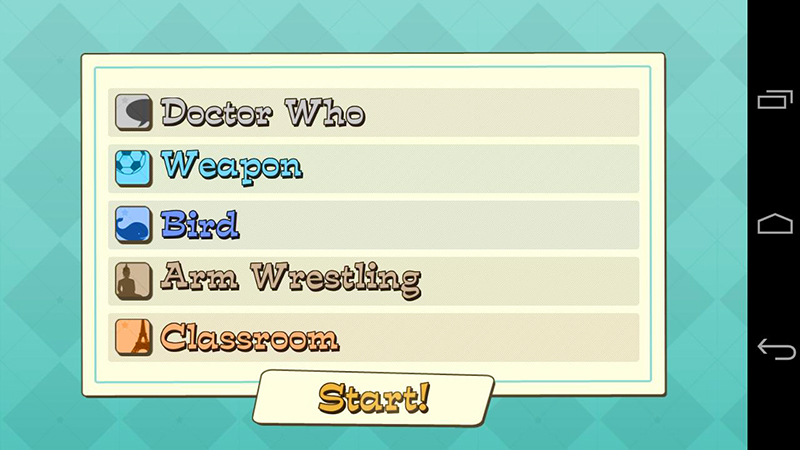 Thanks to this word card game app people can enjoy all the fun of charades games anywhere at any time. This app features more than 4,000 expressions divided into categories like animals, movies, characters, objects, places, etc. Owners of this game promise an unforgettable experience for anyone who'd try to play it. Jokes aside, this game is truly one of the best digital alternatives to old-school charades games.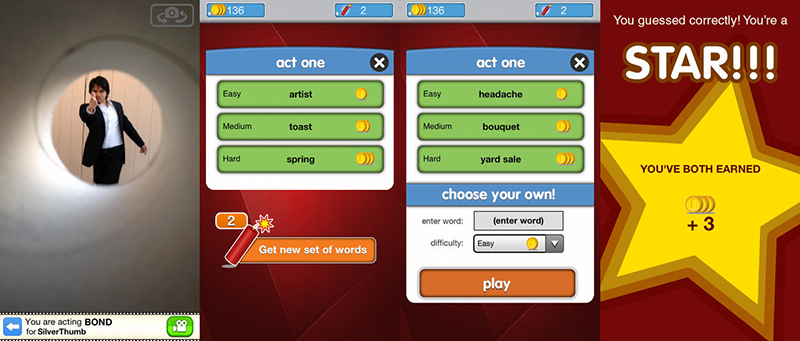 Basically, this word card game is much like the rest on this list. It allows friends to act out and try to guess one another's words. Just like in a traditional game, any form of performance like singing, dancing, or moving around is allowed (while saying the word is not). What makes this game special is that it tracks the performance of players and rewards the best of them with titles. The app tracks time to make sure each player gets no more than 60 seconds to explain their word. Get the word, record your explanation, send the video to other players.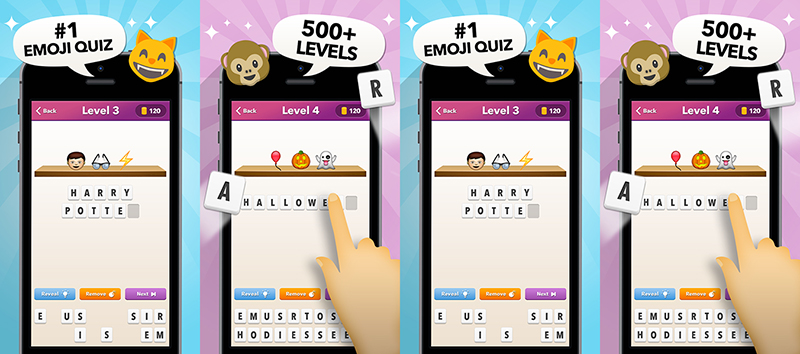 With more than 5 million downloads worldwide, Emoji Quiz is a modern alternative to traditional charades game. The idea is very simple: a player needs to guess what a series of emojis means. It might sound like an easy task to do, but a tricky part is that answers might range from places, films, animals, brands, famous quotes, etc. It seems like a charade game created with Millennial players in mind. The app can be downloaded from the App Store or Google Play for free.
Memgoo by Adoriasoft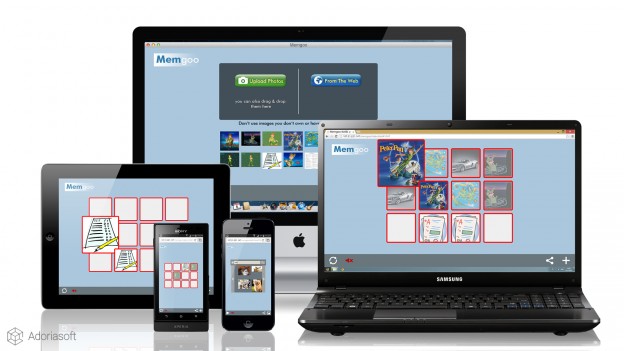 A great example of a word card game for the web is Memgoo, which was developed by Adoriasoft for the client. This HTML 5 game has a simple logic: one must turn over cards, which are laid face down in order to find a pair of matching images. You can play Memgoo with your family and friends. Also you can play it by yourself.
Features to Include in Word Card Games
After examining top word card games we have come up with a list of the following features to include:
Ability to customize themes and create individual cards

Time tracker to make sure each player has equal amount of time to act out

Integration with social networks to seek help from friends

Tracker of each player's performance and a reward system

Smart gestures to mark guessed/not-guessed words by tilting a phone
Conclusion
Given the quantity of content a word card game app should have and the complexity of features it should include, it becomes clear why the most skilled mobile app developers are needed to create a game of this genre. So if you decide to create a charades game app with a financial interest in mind, make sure to hire the best developers you can find. By the way, recently we created a list of 10 must-to-use tips to finding a perfect mobile app developer for your future project. This is the only way to outsmart the competitors.
If you search for a talented and reliable IT partner for development of a word card game, don't go any further. Contact Adoriasoft today and we'll be ready to provide you with the best quality mobile app development for both Android and iOS devices!