Best Chatbot Apps You Should Be Using in 2017
04.05.17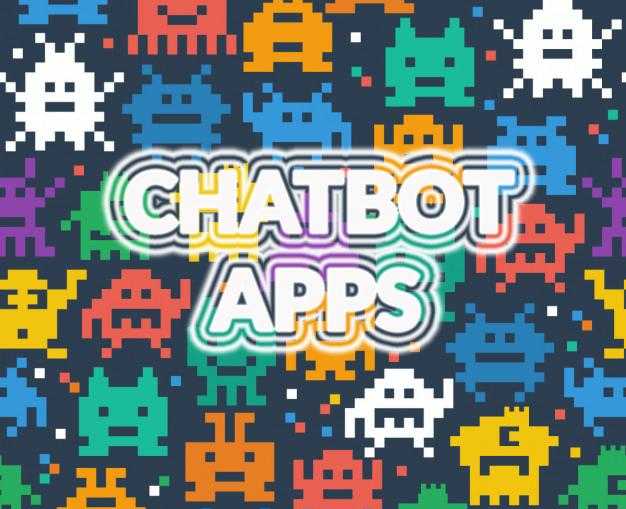 It seems like every year brings in new trends and technologies designed to make our lives better, easier, and happier. We're already used to asking Siri what movie to watch, and it's no longer such a big deal to realize that there are bridges and houses made by 3D printers.
If you do some kind of business you have no choice but to stay abreast of most recent technologies available on the market. Because as experience confirms, it's a must-follow approach if you want to remain competitive in your niche. Otherwise, get ready to leave the game.
So what's that one of the tech trends 2017 that you absolutely need to use this year? Don't be surprised, but chatbot apps are the answer. If you're somewhere close to tech world you will agree that chatbot apps have become the talk of the town – and for good reason. Chatbots can improve the quality of your business and make your company top of mind for your prospective and current customers.
Three reasons why your business needs chatbot apps
There are many reasons why chatbots can bring your business benefit, but let's focus on three most valuable ones:
You can create a custom service available 24/7
In the past you had to hire a huge support team and ask employees stay up all night for the sake of a custom service that never sleeps. Times have changed, and you no longer need to hire so-called nightbirds for the purpose.
It won't take a lot of time to build a chatbot for your business
That's not a breaking news that time is money, and the letter is obviously one of the major concerns of any business. Fortunately for companies and business owners, chatbots are relatively cheap and easy to develop. What's more, there are plenty of ready-made soft and chatbot templates to choose from. In case you don't have enough resources to hire a professional developer (which is obviously the best option), you can integrate a ready-to-use solution with your platform, tweak some features, and enjoy the result.
It will give you a significant competitive edge
According to tech forecasts, as much as 80 percent of businesses are willing to integrate chatbots into their websites and web services by 2020. This fact points unambiguously to one thing: chatbots are sure an up-and-coming trend, meaning you still have a chance to be among the first companies to implement it. Wonder what to do? Grab your chance, create an awesome chatbot and run for success.
So what chatbot apps are most worth your attention?
If you still think the choice is very limited you should visit websites like Botlist or Fandom. Chances are good that you'll be amazed by the wide range of chatbot apps available for your usage. To help you not to get lost in this variety of choices, we've rounded up a list of ten best chatbot apps that may inspire you or your business in 2017. Read on to find out: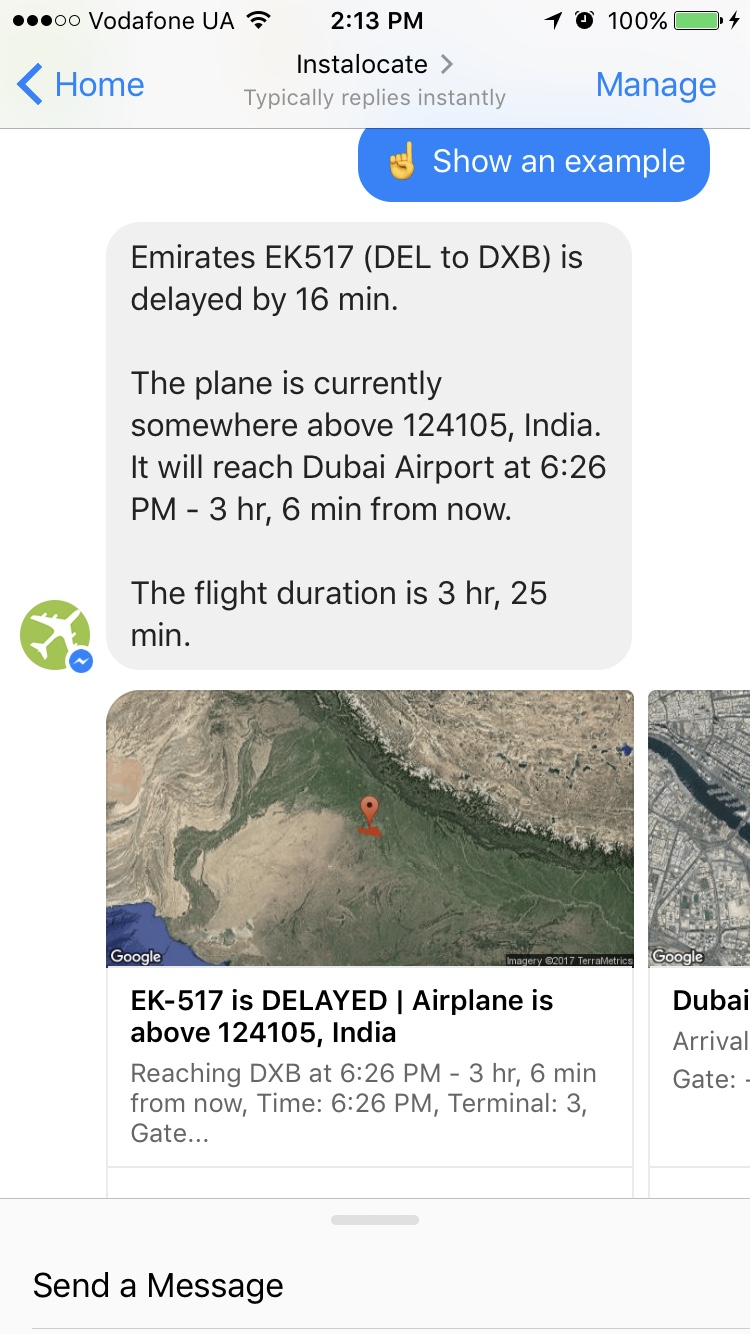 In case your business has anything to do with traveling or tourism, you should seriously consider examining chatbot algorithm of Instalocate and see if a similar one can be a good fit for your business. To cut a long story short, it's a real-time flight tracking chatbot allowing to check on flight status, departure/arrival time, gate information, and delay alerts. With Instalocate you can enjoy an improved flight experience. It's currently available for Facebook Messenger.

Meekan
In today's fast-paced environment time is the biggest concern for most of the people. That's why time management apps are getting increasingly popular. The good news is that there is a company taking it one step further. You can integrate Meekan chatbot into your Slack channel and arrange meetings with teammates. Meekan, a great scheduling robot, can match calendars of everyone from your contact's list, find common free times, and schedule meetings for the time most suitable for everyone. Not even to mention that Meekan can reschedule meetings and resolve conflicts when something goes wrong.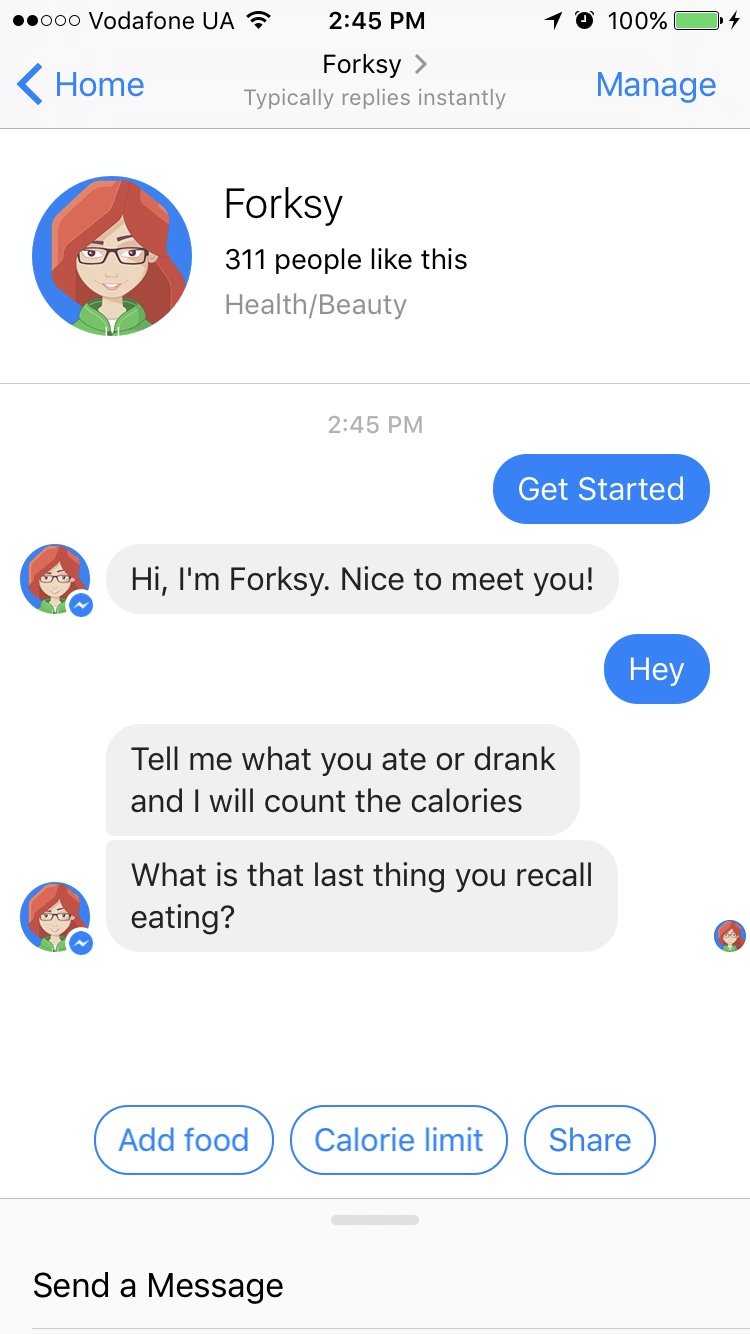 It doesn't matter if your business is somehow related to fitness and nutrition or you simply want your employees to be healthy and productive, Forksy s exactly what you are looking for. Fortunately for you and everyone interested in building healthy habits, this chatbot can be easily integrated with your Facebook messenger or Viber. As the developers of Forksy put it, it's more like a virtual friend than a regular chatbot. You can share your daily meal plan and get feedback on your food choices. You can send your virtual friend a picture of your food, and it will still get what you mean.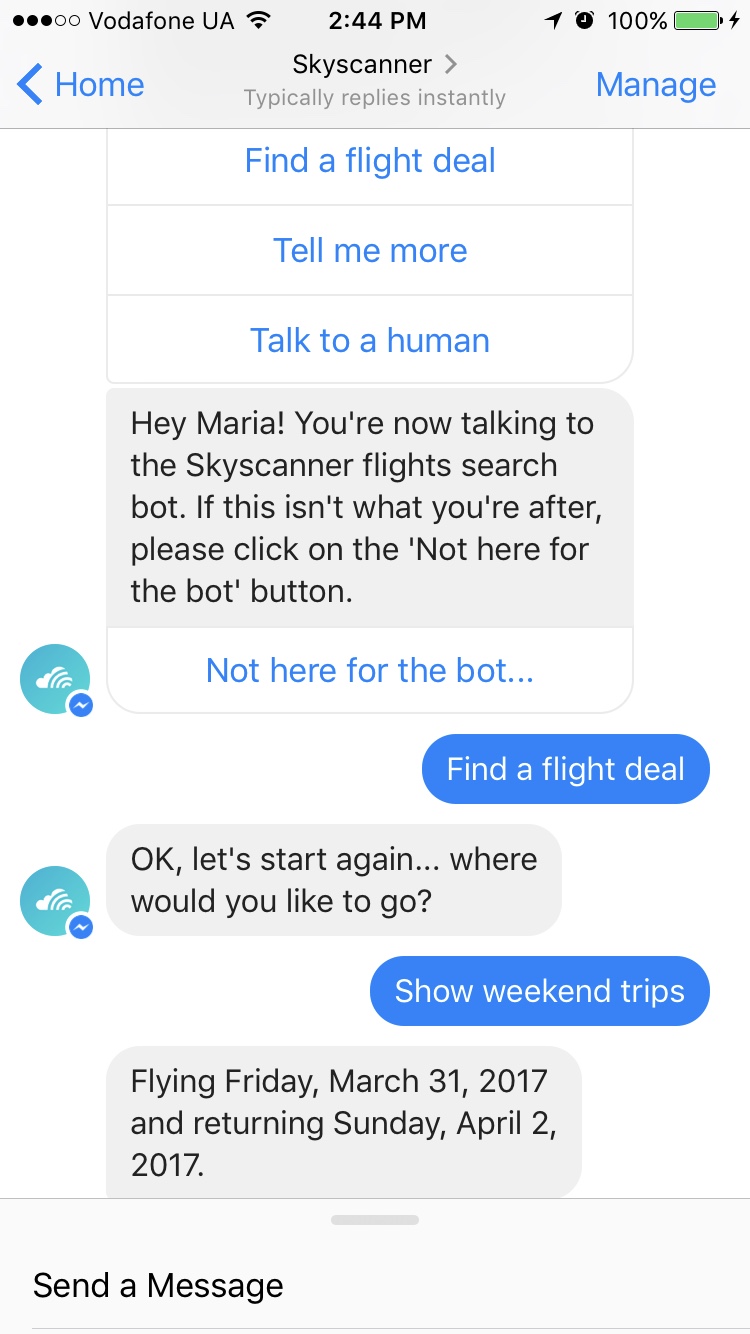 Gone are the days when searching for plane tickets via platforms like Skyscanner was already cool enough. As technologies evolve, companies have no choice but to catch up. It seems like Skyscanner understands the rules better than the majority of companies in its niche. Now you can interact with Skyscanner's chatbot in your Facebook messenger and search for the best tickets without the need to leave your social network. Saving time and effort – what a good job, Skyscanner.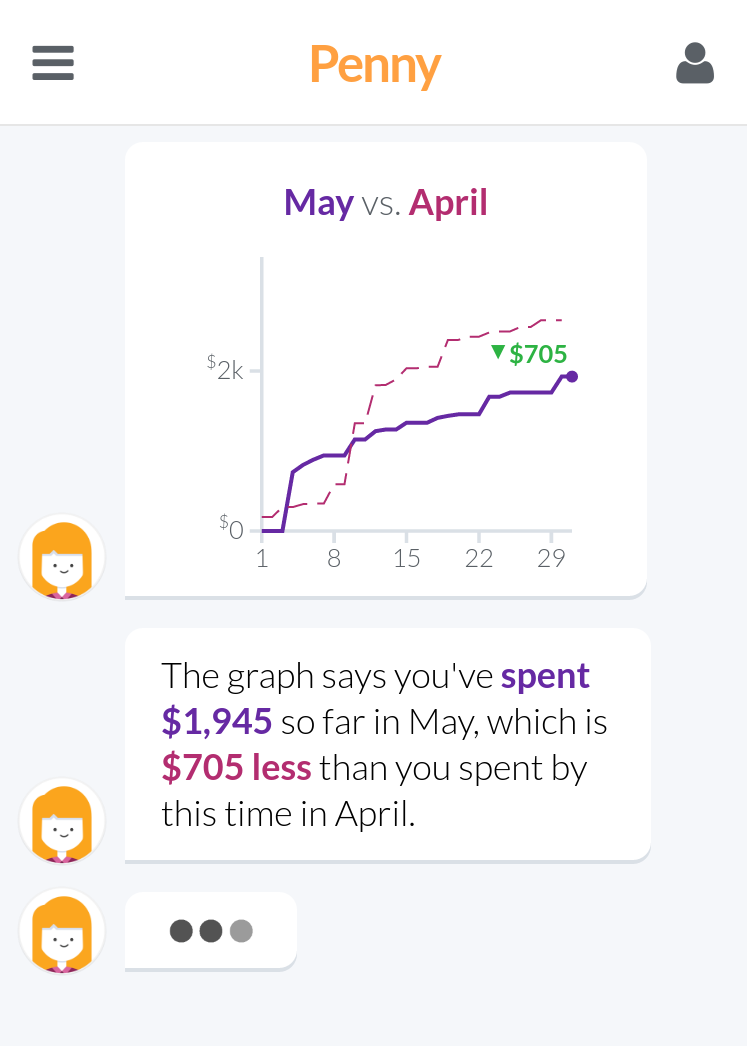 They say we are all the generation of consumers. If that applies to you at least to a certain degree, you'll appreciate the service Penny chatbot offers. In a nutshell, Penny is your virtual bank manager. Not only can it provide you with a detailed report on your expenses and incomes, but it can also securely keep all your passwords of bank accounts. At this moment, Penny exists in the form of separate iOS and Android apps only, but you should keep an eye on updates. Possibly soon you'll see it in Facebook Messenger, Telegram or Viber too.
JungleBit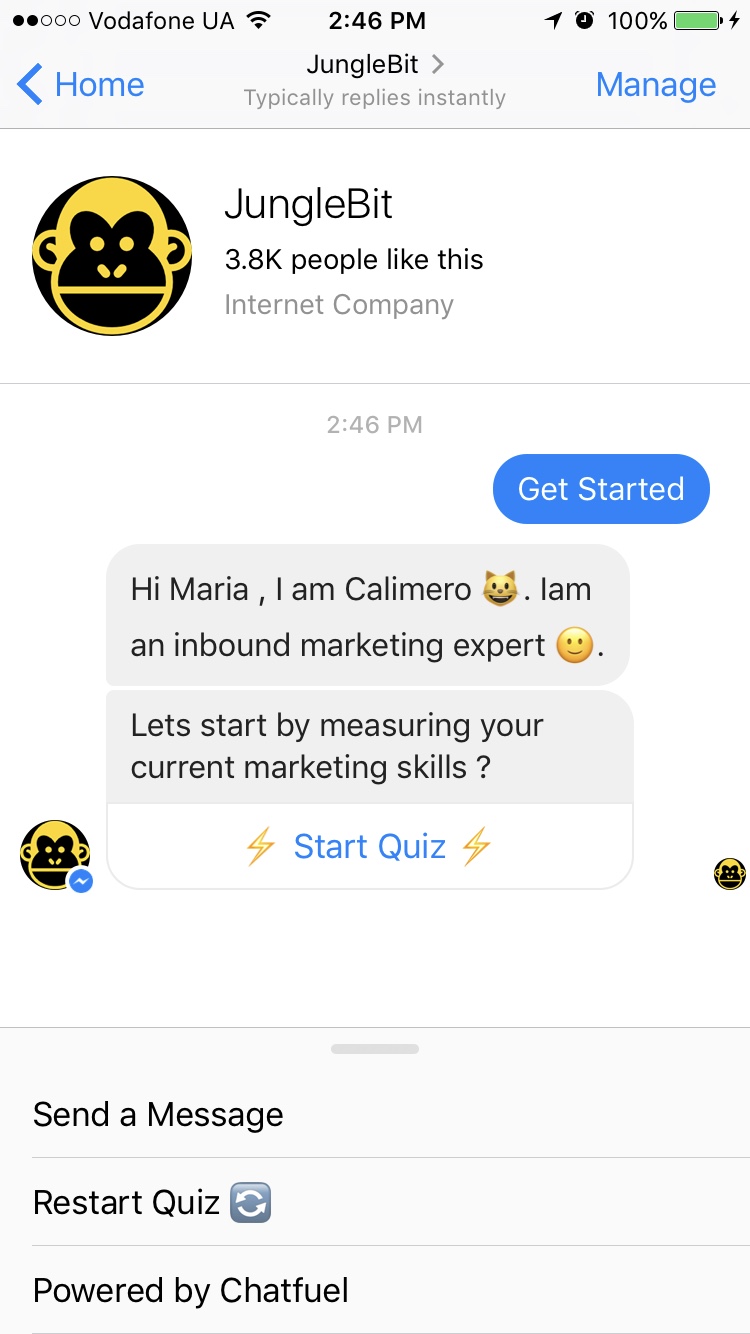 Consider implementing an inbound marketing strategy to your business? Looking for educational materials on the subject? Then there is a great news for you. Meet JungleBit, a smart Facebook Messenger chatbot willing to guide you through the world of inbound marketing paying special attention to most relevant information on the subject. JungleBit chatbot is exceptionally smart: he asks you questions to determine your level of expertise.
Gymbot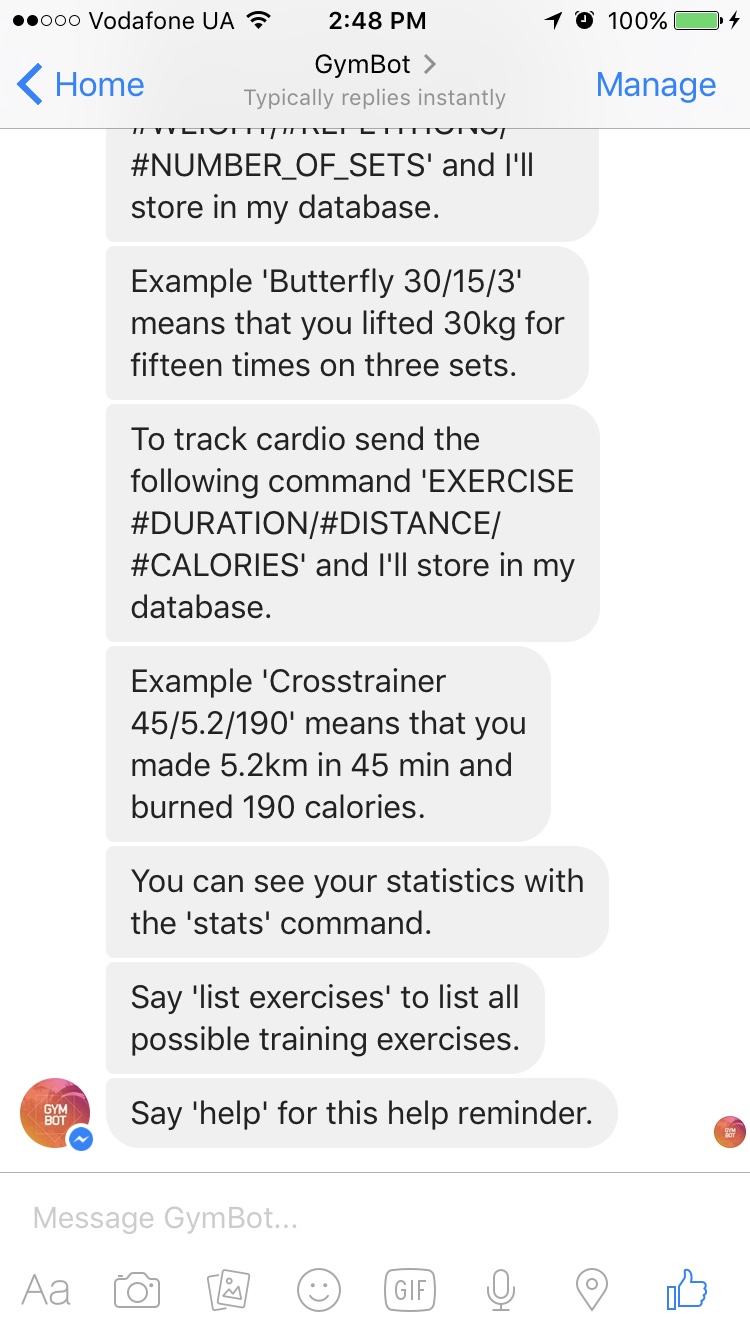 Those who are seriously into sports are likely to know how it feels to track all training progress on paper. Sometimes you forget your notes at home and find it hard to remember how many sets and reps you are supposed to make this time. With Gymbot, the problem is solved. Now you can install Gymbot in your Facebook Messenger, and share your current training statistics with your virtual trainer. The rest is up to Gymbot. It will track your progress and help you maintain your personal training journal. What a great idea to try if your business is related to fitness and physical activity!
In case you're in a retail business, you should take a closer look at this chatbot iOS app right now. Invented and designed by former employees of Amazon, it is the best personal shopping assistant you can imagine. Mona knows about the best promotions, discounts, and sales. She's able to guide you through a variety of shops to the one having an item that perfectly matches your criteria, including price, style, and etc. As a retailer, you can partner with Mona, so it can consider your shop when searching for best buying options for its user.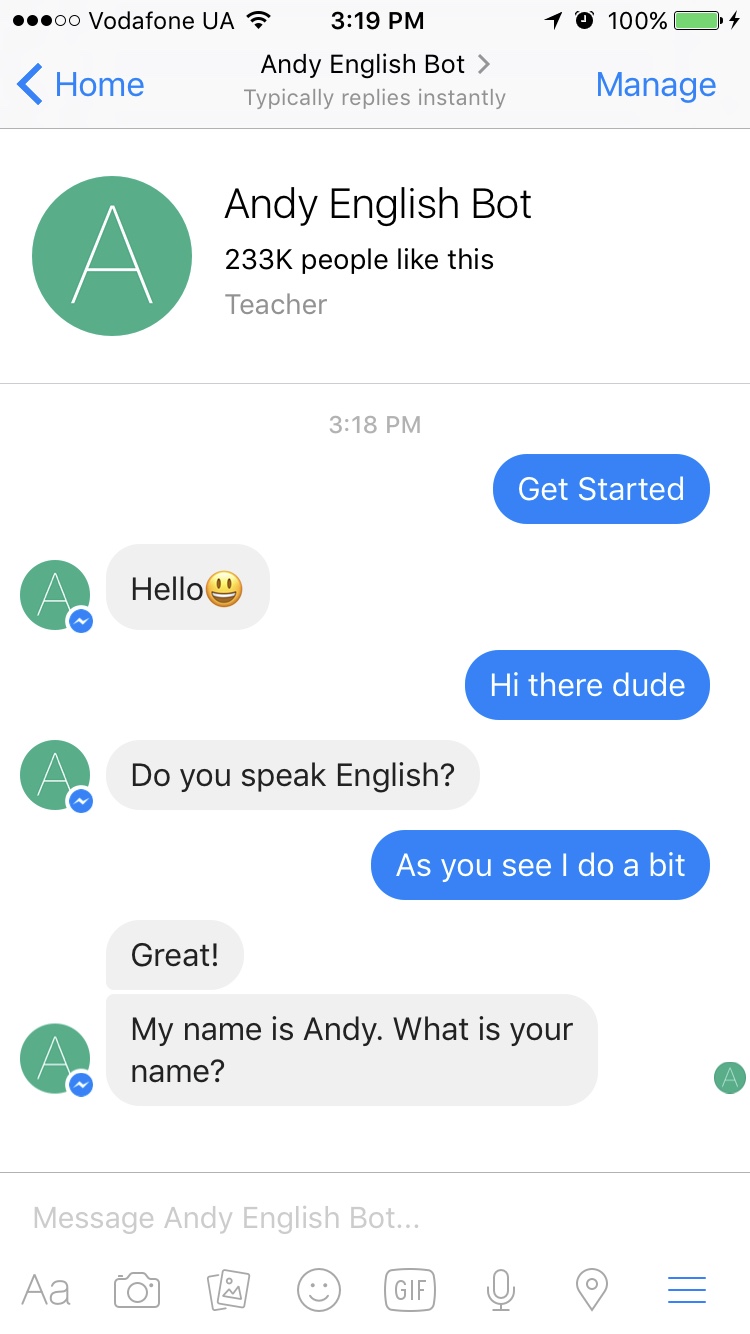 Needless to say, English is still the dominant language in the majority of business niches. That's why it's so important to understand English speech and be able to reply. With Andy app for iOS and Android, you no longer need to attend language courses. For your daily portion of education, download Andy native app or Andy English chatbot for Telegram or Facebook Messenger. As soon as it's done, you have an English speaking friend correcting your mistakes, helping you learn new words, and talking to you about whatever you want.
Joy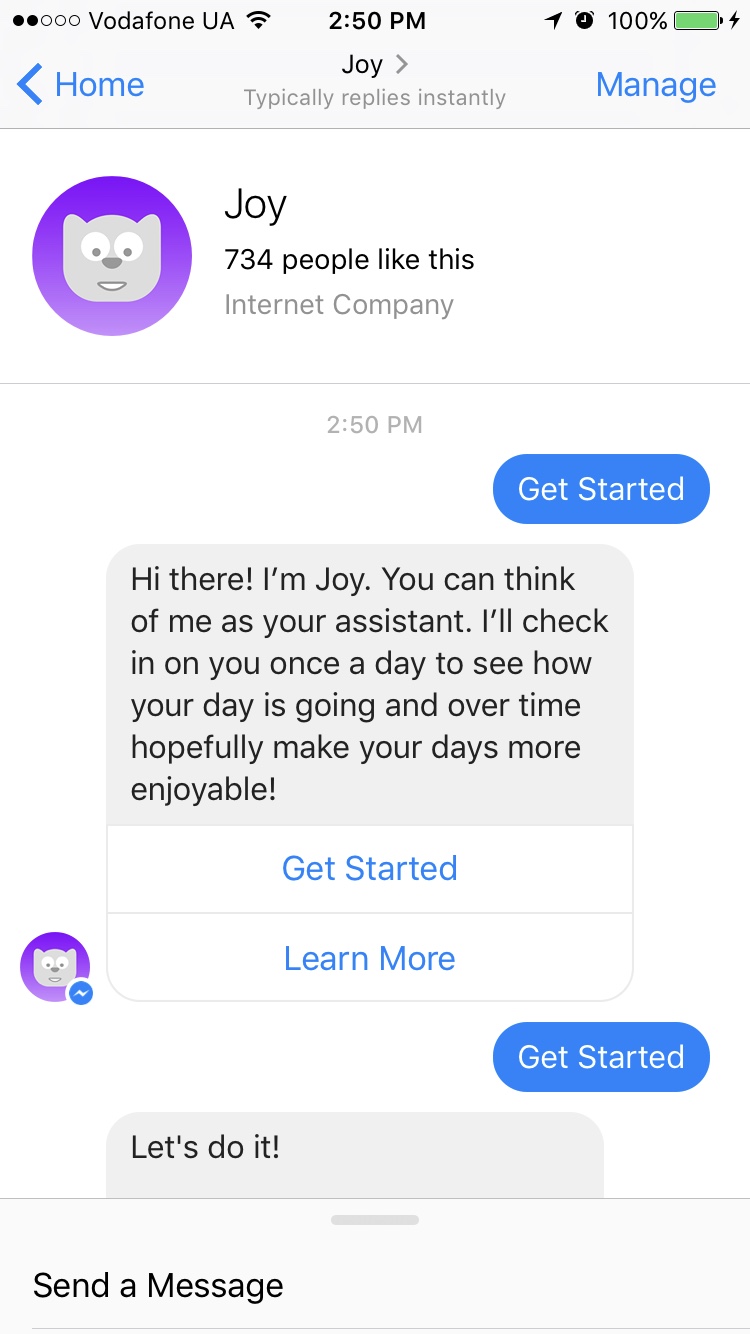 One more chatbot app you should absolutely try using is Joy. If you're anything like the majority of modern people, your mental health leaves much to be desired. Chances are good that you're too busy to take care of your emotional wellbeing. But what if you no longer need to attend psychotherapist to have your portion of support and mental check? Try Joy chatbot app for Facebook Messenger or Slack. It will ask you about your mood and feelings on a daily basis, and will help you overcome the moments of misery and sadness. Also it's a great example of a lifestyle chatbot model that can be of inspiration to those who aim to create their new business for the masses.
It might be too soon to say that chatbot apps have turned the world on its head, but there are grounds to assume that the trend will gain momentum. With all the variety of chatbot apps available on the market today, it is just obvious that the technology can be applied to virtually any business niche. All you need is to research the needs of your customers and hire skilled developers to make your idea real. Adoriasoft is ready to create a top-notch chatbot for your business. Simply contact us to get a project estimation and a free consultation!