What It Takes To Build a Successful Peer-to-Peer Payment App
05.03.17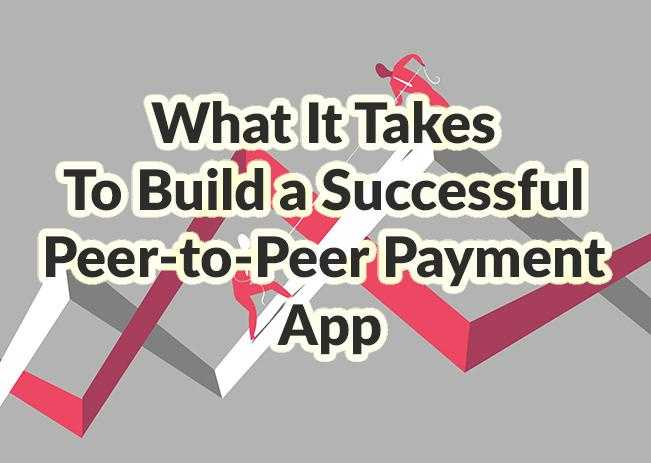 Raise your hand if you too think that living in today's world is awesome. With online alternatives to virtually all tasks and jobs we deal with, we get a chance to save time and effort and then dedicate these two valuable resources to something we truly care about. You can do shopping, setup and hold meetings, obtain new skills, discover new places, book tickets. Even send or receive money without the need of leaving your couch.
Speaking of the latter, it is payment apps we are talking about. Yes, those handy and nicely-looking mobile apps that make it possible for you to transfer money to your friends or family in a few clicks. As you might have already guessed, the topic of today's article is peer-to-peer payment apps. So let's dive right in.
What are these peer-to-peer payment apps in the first place?
For the sake of simplicity, let's just say that peer-to-peer payment apps are mobile applications. They make it possible to complete electronic money transfers from one person to the other. This definition is obviously simplified. But it's sure enough to understand what this technology is all about.
One can access peer-to-peer payment apps either through mobile devices or home computers. This makes them an extremely convenient alternative to traditional payments that require signed checks, visits to banks, and so on. To use peer-to-peer payment apps, one needs to link their bank accounts to the app's profile. As soon as it's done, it's possible to store, send, or receive money with ease.
What is the situation like on the market?
If it doesn't ring any bells when you hear the term 'peer-to-peer payment app', you will, surely, recognize the industry leaders. It's hardly possible to imagine a person who's never heard of popular money transfer services like PayPal or Dwolla. However, these two are the obvious leaders. So plenty of people have no idea that there are numerous alternatives to these well-known companies.
It turns out that today's market of peer-to-peer transfers has already surpassed the worth of $1 trillion. It actually happened two years ago, so there are strong grounds to assume that the numbers have grown significantly since then. Another fact you'd like to learn is that the majority of peer-to-peer payment app users conduct transfers via mobile phone. What's more, it's important to know that such apps are equally popular in both developed and emerging economies. So it's safe to say that peer-to-peer apps are a good business idea whatever way you slice it.
Now, as it's already clear that peer-to-peer payment apps are getting increasingly popular all around the globe. So let's take it one step further. Let's discuss in more detail what companies are the industry leaders and what in particular makes them so.
One of the most well-recognized apps in the industry, and one of its greatest. According to the most recent statistics available, PayPal has over 197 million active users all around the globe. Moreover, it processes up to 5 billion transactions per year. At the moment, PayPal is available in 203 markets and in 100 currencies. Needless to say, global availability and good reputation are two factors making PayPal the most well-recognized peer-to-peer payment app at the moment.
Another popular peer-to-peer payment app widely used around the world is Dwolla. One of the best things about it is not just a regular peer-to-peer payment app. It doesn't just make it possible to transfer money between individuals. Dwolla is also suitable for paying for services, donating money, and etc. As stated in the company's official reports, Dwolla is now processing between $30 and $50 million in payment transactions every month.
The next peer-to-peer payment app that is widely used now is Google Wallet. As the company itself puts it, Google Wallet conducts a 24/7 fraud monitoring. While covering 100 percent of all verified unauthorized payment transactions. Thanks to the fact that Google is already a well-established and trusted company, it comes as no surprise that people choose Google Wallet for their online payments.
ChimpChange
In the first place, ChimpChange was launched as a mobile app for an online account checking. Nonetheless, the app's functionality has expanded significantly over time. Now users of ChimpChange can actually send and receive payments from other users, which makes it a classic peer-to-peer payment app. According to the most recent statistics out there, ChimpChange has processed over $20 million in transactions.
Another great peer-to-peer payment app to be considered in this article is Square Cash. Launched back in 2009, it has built it's way up to the league of industry leaders. At the moment, Square Cash processes around $1 billion in transactions per year, which makes it a serious competitor to the industry leaders.
Considered the most well-known peer-to-peer payment app, Venmo boasts great design and usability. Nonetheless, some people question the app's security since it displays all transactions to the public. Although you can change the default settings in a matter of minutes, it is still a little strange that the first thing you see when opening the app is a list of transactions made by Venmo users. Being a part of PayPal, Venmo is now responsible for over $20 billion in transactions per year.
The next peer-to-peer payment app that deserves your attention is PopMoney. One of the greatest things about PopMoney is that it can be used for recurring payments, including rent payments to landlord or internet bill payments. What's more, PopMoney allows you to request payments either from groups or individuals. Launched in 2010, the company now serves over $300 million in transactions annually.
Circle is another telling example of a successful peer-to-peer payment app. Initially launched in the US, the company is now rolling into Europe and Asia. Thanks to raising more than $60 million in funding, it manages to make its way up to the industry leaders faster than many of its competitors.
If you think that Snapchat is about sending funny ephemeral pics only, you'll be surprised to learn that the company now allows sending and receiving money. Being a part of Snapchat (the startup that has managed to raise over $10 billion), Snapcash is a great alternative to other peer-to-peer payment apps available on the market. It is believed that the new money-sending feature will win over millennials and make Snapchat even more popular around the world.
Yes, it's Facebook messenger that you use daily we're talking about. In case your eyes grew large when you saw it on this list, here is what you need to know: you can send money via the app. All you need to do is click the dollar icon above your keyboard and state the amount of money you'd like to send. Then enter your debit card information, and you're almost done.
Why are peer-to-peer payment apps so popular?
When something gets increasingly popular (which is the case with peer-to-peer payment apps), chances are good that this 'something' deserves all the attention and admiration it gets. So let's find out what are the situations when peer-to-peer payment apps appear to be the most needed.
If you are a renter and make monthly payments to your landlord.

When you're dining out with your friends and one wants to pay the check and split the sum later.

If you prefer paying online for utilities, the Internet, and other services.

In cases when you buy something online and want to pay for it from the comfort of your device.

If you're running an e-commerce business and want to simplify its money-transfer aspect.

When you need to support your friends or family members financially and want your money transactions to be simple and social.
What features should be there in a peer-to-peer payment app?
Although the majority of peer-to-peer payment apps look the same, not each one available on market is equally simple and secure. It all depends on features these apps boast. To create a successful peer-to-peer payment app, you need to make sure to include all of the following features:
Each user needs to have a unique ID and profile. When the money is either sent or received, users should be able to see all transaction details.

There should be a simple chat so users can discuss transactions in words.

It's important for users to be able to make transfers to both individuals and companies.

It must be possible to generate invoices.

There should be a certain kind of support to resolve the disputes if they occur.

It is an absolute must to include verification feature to ensure a necessary level of security.
As you can see from all said above, it takes skills and effort to build a successful peer-to-peer payment app. Since this type of applications is all about money transfers, security should be your biggest concern. There is no room for mistakes or failed experiments. You need to make sure that your app is both convenient and secure. As experience confirms times and times again, the best way to do this is to partner with a team of professional mobile app developers.
Adoriasoft has advanced skills, expertise and talented mobile app developers to implement any peer-to-peer payment app concept you may have. So if you're a business owner or an entrepreneur thinking of launching a successful peer-to-peer payment app then we're the development team to address to. Drop Adoriasoft a line describing your project and we'll provide a free estimation right away!