How to Make mLearning Apps for Different Audiences
07.07.17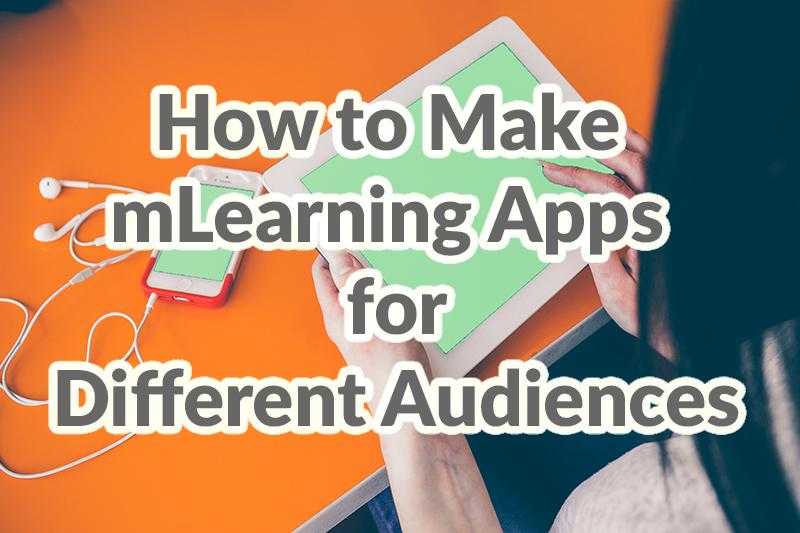 As each year brings the new wave of trends and innovations, we have no choice but to adjust to the fast pace of life and get the most out of the new. It's no longer a breaking news that mobile apps have become an inherent part of our lives and virtually any task you can think of has a digital alternative in a form of a mobile app. We've got an app for booking a hotel, an app for comparing ticket prices between different airlines, one for working out, and even one telling us how much time we've spent on each application. With all this variety of apps, only a part of them is really worth our time and attention. In today's article, we're going to discuss those belonging to the category of useful and valuable. This time, the spotlight is on mLearning Apps.
mLearning Apps Market Overview
At the outset, it makes sense to briefly discuss the popularity of mobile apps in general. In case you've missed this milestone in the history of tech, the number of mobile users has surpassed the number of desktop ones back in 2016. What it means is that the ever-increasing pace of life forces people to give preference to portable and mobile, and smartphones are perfectly up for the task. So it comes as no surprise that mobile apps are expected to generate as much as $188.9 billion in revenues by 2020. It is also worth being said that the percentage of the mobile workforce is projected to double in size by the next year.
While the growing potential of mobile apps seems to be obvious, it's still necessary to find out the situation on the mLearning apps market in particular. It turns out, the trends in mLearning apps niche resemble the global trends. Nearly half of all businesses and organizations report their willingness to use mLearning apps,  85% of all organizations say that they recognize the importance and potential of using mLearning apps for growing their business. And above all, the niche of mLearning apps is projected to reach $12.2 billion by the end of this year.
Although mLearning apps are already well-established on the global market, they're still on the rise. So chances are that today is the best time for tech entrepreneurs to consider creating an mLearning app of their own.
Who Are the Users of mLearning Apps?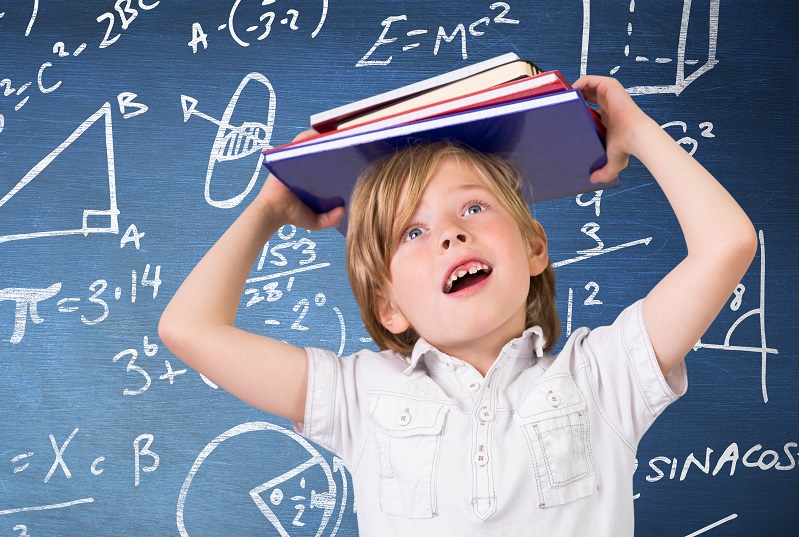 The most obvious category of mLearning app users is kids. Given that mLearning apps are interactive in nature and provide 24/7 access to educational materials, it comes as no surprise they're so popular in children. One of the great side-effects of mLearning apps for kids is that they make children tech-savvy and teach them to utilize free time with benefit.
Another obvious category of active mLearning app users is students. In this case, mLearning apps for students may be created either by an educational institution or the third party. The major point is that mLearning apps of this type oftentimes focus on narrow topics and concrete disciplines.
As such areas as IT or Marketing require a constant refreshing of knowledge, mLearning apps are especially popular among representatives of this professions. There are plenty of mLearning apps for developers, web designers, digital marketing specialists, to name a few. In nearly all cases, it's IT companies who create mLearning apps for professionals.
One more category of people among which mLearning apps are exceptionally popular is lifelong learners. This category may use mLearning apps for learning a new language or studying, let's say, Astronomy.
Top-10 mLearning Apps on the Market

Now, as it's already clear that mLearning apps are the next big thing in education, let's take a look at those who run the show in 2017.
Available for both iOS and Android users, Udemy is a comprehensive educational platform for people of all interests. Basically, Udemy is an app gathering multiple online courses on a variety of topics from design to SEO to affiliate marketing. One can download this app for free, but only a part of courses are completely free of charge. The biggest perk of Udemy is that it provides educational opportunities for learners of any level. There are courses for beginner, intermediate, and advanced levels.
This mLearning app is a perfect fit for anyone who wants to learn the new language from scratch. This interactive app is a great tool to learn new words, master the grammar, and improve listening or speaking skills. The biggest advantage of DuoLingo is that it contains interactive exams and provides official certification upon a completion of each course. The app is available for iOS and Android users for free.
DesignJot
One more amazing mLearning app is DesignJot. Created specifically for instructional designers and trainers, this mobile app allows users to plan, design, and even build training courses of their own. This app is exceptionally useful for those whose job is to teach others and those who want to make the process of learning as interactive and engaging as possible. This app is only available on the App Store.
It seems like Skill Pill was designed specifically for those who value the importance of education but have no time to spend hours on mastering new skills. This mLearning app is full of bite-sized educational videos on a variety of topics. The biggest perk is that it allows to combine different pill-sized videos and create a course matching the individual interests and needs of every learner. The app is available for free on the App Store and Google Play.
Lynda
This mLearning app is essentially a catalog of business courses for managers, marketers, accountants, and others. Users of Lynda can access sources, save them for offline viewing, share the best ones with friends, and even create course playlists. Although the app does contain some free courses, the most popular of them can only be accessed by subscription. The app is available for both iOS and Android users.
Probably the most popular and well-known educational app, Coursera deserves all the attention it gets. Basically, it's a mLearning app featuring the best educational materials from top colleges and universities around the world. Inside of this app, users get an access to more than 2,000 courses on different topics. One of the biggest advantages of this app is that it provides courses in different languages. The app is available for free on the App Store and Google Play.
Ted is yet another world-famous educational initiative in a form of a mLearning app. The core idea of TED is to share educational and inspirational speeches of top professional and opinion leaders. At the moment, there are over 2,000 videos users of this app can access for free. Learners can search content in more than 100 languages, create to-watch lists and download favorite videos.
Available for both iOS and Android users, PhotoMath is another great app for online learning. To use this app, one should point a camera towards a math problem and the app will show the result with detailed instructions. This app features camera calculator, detailed instructions, and even handwriting recognition. Available for iOS and Android users for free, PhotoMath is a way to study maths with ease.
Thanks to this app, people can create simulations and games for their visual ideas. With Codea, it becomes increasingly simple to turn thoughts into interactive creations. All it takes is to type a code, press play to see it run, and then interact with it. This mLearning app features a 2D and 3D renderer, provides lots of cool examples one can learn from, includes intelligent syntax highlighting, as well as video and sound recording. The app is available for both iOS and Android users.
The last but not the least mLearning app on the list is Khan Academy. Available for downloads from the App Store and Google Play, it teaches more traditional disciplines like physics, economics, math, sciences, and much more. Inside of this app, learners can search more than 10,000 videos, learn new concepts, and improve their skills. The app is completely free.
mLearning Apps Created by Adoriasoft Team
Movie Mouth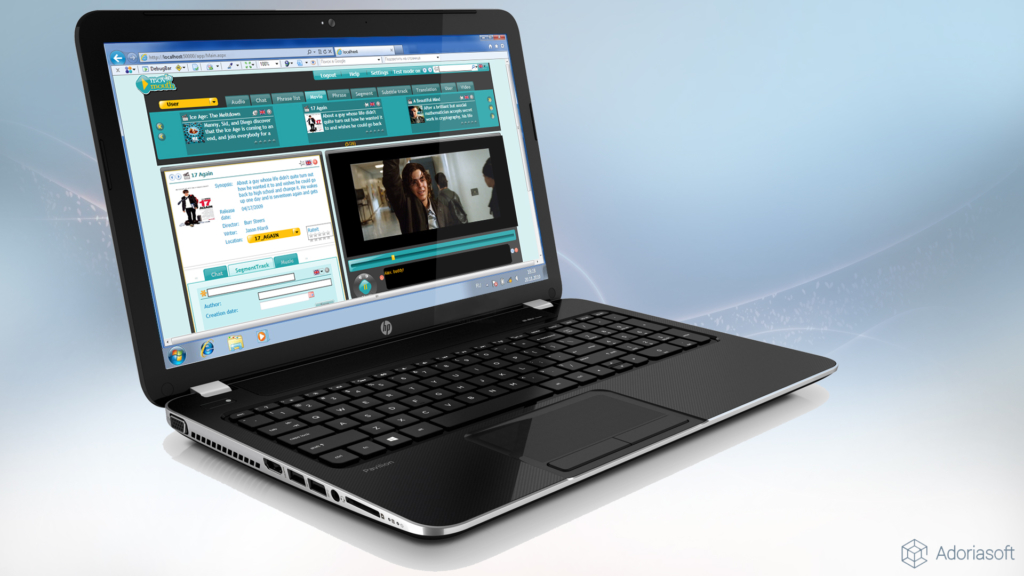 For its clients Adoriasoft has developed different mLearning and eLearning apps. Movie Mouth is a web application that lets users effectively learn languages while watching favorite movies. Not just subtitles, but an in-depth curriculum is provided helping users understand every bit of a language their beloved actor speaks. The team of four specialists worked on the implementation of the Movie Mouth project: Project Manager, Senior .NET Engineer, Middle QA Engineer and Senior C++ Engineer.
Sit-Ins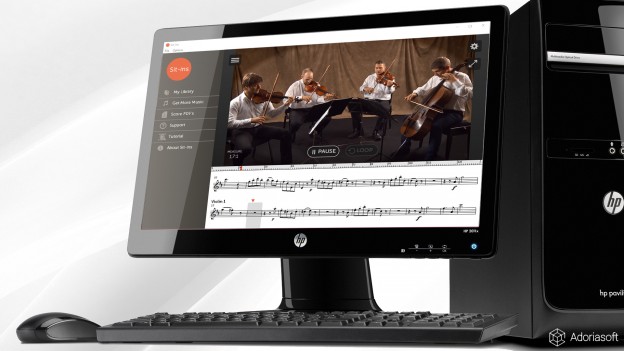 Another great app developed by Adoriasoft is Sit-ins, a valuable tool for musicians. Using this desktop app musicians can practice their musical parts together with interactive orchestra. Studying thus their technique is much easier, especially when Sit-ins lets users watch the video of the world-class orchestra playing and interacting with each other. The software was written in C++ and Objective-C to be efficiently used by both Windows and Mac OS users. Other technologies used for implementing the project included WinAPI, GDI+, InnoSetup, TrackerBird, Git, SVN and Jira.
Features One Should Include in mLearning Apps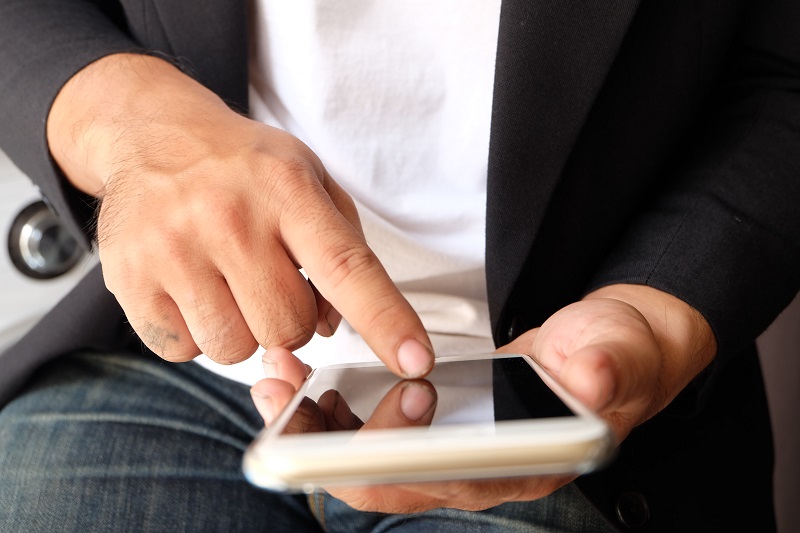 There is no one-size-fits-all solution regarding which features to include. The list of necessities depends greatly on the target audience of a particular application.
In the case with mLearning apps for kids, it's important to include settings for appropriate leveling/age, a button locking everything that shouldn't be a part of a child's activity, interesting characters and arcade-like flow of each lesson, as well as an exceptionally simple UX and navigation.
Speaking of mLearning apps for students and professionals, it would be good for an app to support integration with social networks, collection of points and grades to make the process more engaging, online exams for the most result-oriented users, and ability to download lessons for offline viewing.
Conclusion
Summing up, it makes sense to say that mLearning apps are among the up-and-coming tools in education. Chances are good they will soon replace offline learning altogether, which means that now is the best time to build a quality mLearning app. Not only will this bring benefit to the society, but also will give you a chance to build a stable source of income. All it takes is to think of a fresh idea and hire professional mobile app developers to make it come true.
Adoriasoft has great experience in developing mLearning apps for various audiences. So don't wait and contact us right away to receive a free consultation and your mLearing app project estimation!