CX Design vs UX Design: 4 Differences You Need To Know
03.03.17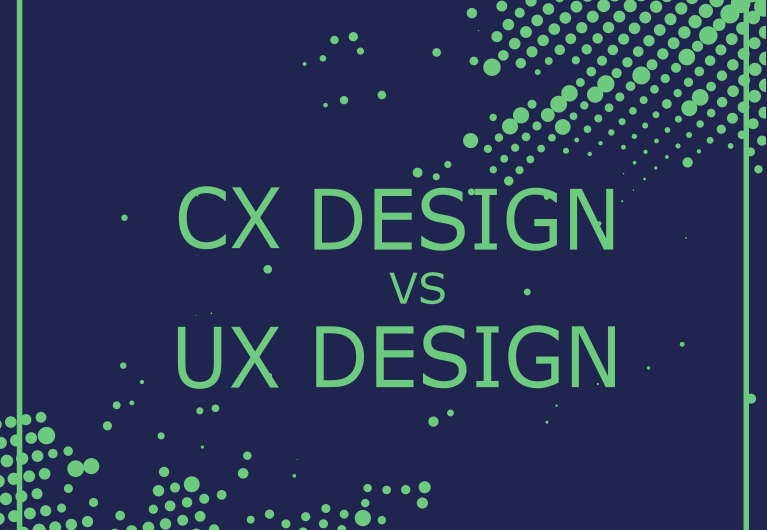 Everyone knows what UX design means, but fewer have heard the term of CX Design. What is CX Design? How is it different from UX Design? In this article, we'll answer these questions and draw some conclusions. We hope that they will be of use for everyone not yet familiar with both design concepts.
UX Design & Its Principles
User Experience (UX) Design is the term which states for the complex of measures that help to enhance a user satisfaction from using a product. Those measures aim at improving not just a product usability. Their goal is the entire experience that user gets when interacting with the product.
The main principles of UX Design are clarity, digestibility, familiarity, trust, and delight. Clarity means that all things on the website or a mobile app must be explained to a user in the most understandable manner. UX designers must explain each function or a feature the way they would want it to be explained to them.
Digestibility deals with making it easy for a user to figure out what the mobile app or a website is about. Without any effort from users' side, they should be able to see its clear organization and structure. All the elements must be arranged according to a certain visual hierarchy. Moreover, good UX designers should strive to make an app or website look and feel native to the user. So familiar iconography, patterns, and scenarios are a crucial part of making a user feel at home.
Another important principle of UX Design is trust. Building trust is a necessary prerequisite to successful transactions on the website or mobile app. UX designers thus must constantly work on removing any barriers and obstacles. There shouldn't be a place for confusion and doubt that could prevent users from relying on a product experience. Finally, a product, be it a website or a mobile app should be a pleasure to use for anyone. That's why UX designers should make everything possible to make a product a delight to use in everyday life.

CX Design & Its Concepts
CX Design or Customer Experience Design concerns improving all interactions and touchpoints that surround a user. This involves all interactions from the first engagement with a brand up to the stage of retention. CX Design involves more than just UX Design, but also a creation of new experiences which help to achieve marketing and business goals of the brand. CX Design implies all the enhancements that aim to improve a customer experience during the complete product lifecycle. Thus the term of CX Design is much wider. It works with entire journey of a customer and actually goes hand-in-hand with experiential marketing.
CX Design has some key principles that are "must-follow" for businesses that want to succeed in a digital era:
Understanding a customer journey in all the channels where customers appear is vital for the creation of winning customer experiences.
Customer experience is totally subjective, so interactions and touchpoints must be personalized.
Offline customers no longer exist, so get ready for an ongoing cross-channel interaction and conversations with the brand.
Knowing that at any touchpoint there's always a chance that users may drive away and choose a competitor should foster ongoing user experience optimization.
Customer experience has a direct impact on how much money users are ready to spend on the mobile app or website.
Inviting customers to participate in conversations with a brand and collaborate with it as partners helps to provide better customer experiences and improved brand offers.
Customer experience design enhancements must be based both on financial data (how customer spends money) and observational data (what customer actually does interact with the brand).
CX Design vs UX Design: How They Differ
We've defined 4 major differences between CX Design and UX Design:
UX Design works with the product, while CX Design works with the brand. Thus UX designers must make sure they create enjoyable user experience within the mobile app or website that actually solves some customer problem in an efficient way. On the other hand, the main task of a CX designer or CX consultant is to align business goals and strategies with the entire experience of a customer during interaction with the brand.
UX Design focuses on usability, interaction, and visual design, while CX Design focuses on customer service and brand reputation. Furthermore, UX Design is also about a user research, information architecture and content strategy. At the same time, CX Design also concerns the sales process, advertising, product delivery and fairness of the pricing.
CX Designer is, first of all, a business expert, and then a UX Designer, while for a UX Designer it's not always necessary to have great business skills and background.
CX Design is not equal to UX Design. In other words, it includes UX Design but is greater than that.
To conclude it's necessary to say that for the success of any business it should be consistent with both UX Design and CX Design. All in all, customers pay attention to all parts of their experience with the product and value the overall experience. They will either buy your product and trust your brand or turn to competition. Read more.
Adoriasoft has a vast experience in IT consulting for small- and middle-sized businesses and startups. Contact us today to get an instant estimation of your project or get a top-notch UX Design advice, as well as CX Design strategy!
And in case you're searching a mobile app developer, we suggest you reading 10 must-to-use tips to finding the perfect one for your future project.