Blockchain Development Outsourcing: Is it still a good idea?
12.27.18
The blockchain market grows. You hear about it on any popular resource, and experts compete in predicting the market size in billions of dollars. However, if we look closer, we will see that, as 2018 rolls to the end, the blockchain market growth is taking a somewhat different direction.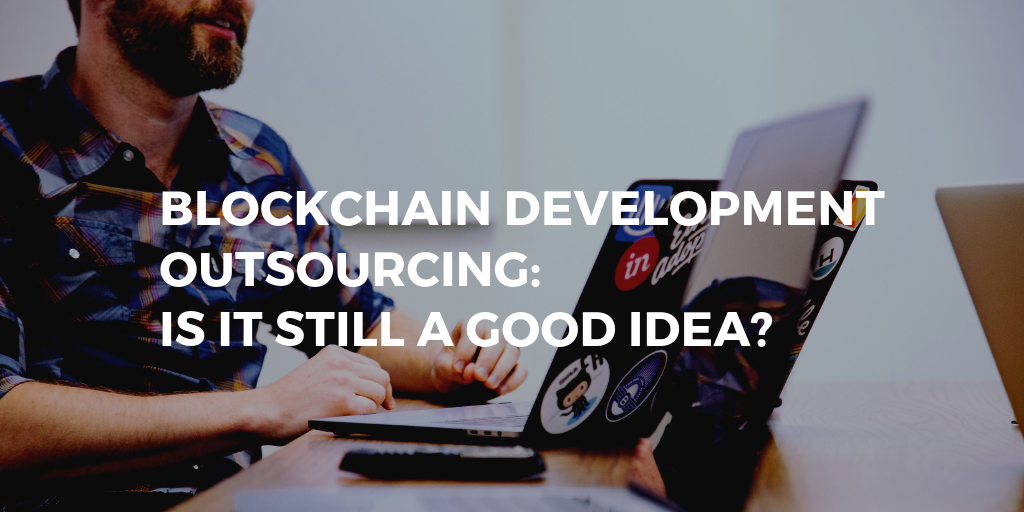 It began with the cryptocurrency boom with people now sadly recalling the times when Bitcoin was selling at $10. Later, we witnessed an ICO craze with the volumes of ICO investments going through the roof. It seems that the ICO peak has passed and now their number and volume are rather moderate. The reason for such behavior may be both the government regulations clamping down on the ICO market and a number of loud ICO scams where millions of dollars just vanished into thin air.
However, all this by no means indicates that the blockchain is past its prime. On the opposite, it is just getting interesting. Today, we are entering the era when blockchain is becoming the technology for the enterprise sector. Forget the mining farms and crowdfunding, we are talking about global logistics, national healthcare, international insurance, cross-border finance, and major power networks.
The enterprise business has begun to recognize the true values of blockchain – the transparency of transactions, the immutability of records, the higher resistance to outside attacks, the cost-effectiveness. And today we see a new emerging trend – the appearance of business blockchain solutions of various scale and purpose.
However, there is a problem. With such an explosive growth of the demand for blockchain solutions, there are not enough blockchain developers who can deliver quality products. Even large companies with own software products and in-house development teams can be hard-pressed finding blockchain professionals.
Blockchain job market
Blockchain is a young technology that keeps evolving literally on the fly. Dozens of startups, development companies, and even research institutes work on making blockchain better, and what was a breakthrough yesterday will be obsolete tomorrow.
In such a dynamic market, it is not easy to find professional blockchain developers who know what they are doing. Especially when the new blockchain product is needed urgently either to get ahead of the competitors or to achieve a new level of effectiveness, the issue of searching for blockchain developers becomes extremely acute.
According to the research by Upwork, blockchain topped the list of the fastest growing skills in the second quarter of 2018. The same research claims that the demand for blockchain skills grew more than 2,000 percent over the previous year.
Glassdoor confirms the same trend with an analysis showing that the number of blockchain jobs in the US alone grew 300 percent as compared with the previous year. According to the same report, the median salary of blockchain developers in the US is 61.8 percent higher than the median salary at other jobs.
This trend indicates, on the one hand, a huge window of opportunity for blockchain developers and, on the other hand, an increasing difficulty of finding a qualified blockchain professional for a project, not to mention the higher salary and other related expenses. As it happens, the number of blockchain jobs exceeds the number of qualified developers making businesses look for outsourcing their projects.
Pros and cons of blockchain outsourcing
Businesses planning a blockchain solution often face the same choice – in-house or outsource? Both models have their pros and cons, but the market seems to lean towards outsourcing, as its advantages become increasingly obvious. Let's look at blockchain outsourcing in more detail and try to find out when it is going to be the most optimal solution and when it should be avoided.
Outsourcing advantages
The outsourcing model has quite a number of factors speaking in its favor.
Shorter time for finding the required skills
If you opt for the in-house option and want to hire a blockchain developer full time, you will either need to train one of your current colleagues or hire a new developer to join your team. Both options take time, as training cannot be completed overnight, and finding a truly professional blockchain developer can take as long as several weeks or even months.
Hiring a new developer is a multi-stage process: posting a job, interviewing the candidates, testing them, evaluating the tests, selecting the best one. When you have, finally, found the right candidate, you may need to wait until they sort things out with their previous jobs. Besides, there is usually a probation period after which your candidate may decide not to continue the cooperation, and you will need to start over.
We are not going to say that when you outsource, you find your best developer in a snap. However, when you contract an outsourcing company, they immediately can say whether they are available or not and when they can start working. Besides, you do not need to interview and test each member of the team, as they have been already pre-approved by the team leader.
A team instead of several individual members
When you outsource, you are getting a full team immediately. A company will usually have all required skills on board – a project manager, a business analyst, several developers with different specialities, a cryptography expert, a tester, a UI/UX designer. Moreover, in a long-term team, everybody knows everybody else and no time is needed to "fall into step".
Of course, there are great in-house teams, too, but think how long it may take to put one together. You will be hunting for half a dozen professionals at the same time, and there is no guarantee that you will find all of them simultaneously. And the precious time is running out…
When you need to start your blockchain project as soon as possible, an experienced outsourcing team is your best option. Moreover, they can help you shape up your project better.
Less administration and maintenance
An outsourcing team may be half a world away from you. While it may create a certain sense of "disconnection", it also means that you do not need to take care of their administration. The office rent, utilities, hardware and software provisioning, vacations, sick leaves – all that is not your problem when you outsource. It is up to the team to organize their work in the most optimal way.
In outsourcing, it is important to appoint a product owner on your side who will maintain close contact with the team and monitor the development progress. However, the internal procedures of the team are their business, and the only thing you need to care about is the quality of their work.
Obviously, such an arrangement leads to a more cost-effective project, as your expenses will be limited to the developers' hourly rate.
Outsourcing disadvantages
For fairness' sake, outsourcing has some drawbacks. However, in most cases, they can be minimized with careful planning and organization.
Less control
When you outsource, you may feel that you have no control over your product development. You do not see the team on a daily basis, and you have no idea what they might be doing.
True, when you outsource, you assign a large portion of control to your partners and have to rely on them to deliver the product you expect. It may create some concern and uncertainty, but there is a rather simple way to take care of this.
The secret ingredient is communication. Once you have established regular, effective, and proactive communication, you will feel in complete control. A common practice is to set up regular demos – usually, once every two weeks – to show what has been completed and what is going to be done next. During such demos, you can – and should! – comment on the development progress and suggest improvements.
By maintaining communication with the team, you will ensure that the product is being developed according to your vision and the initial design.
Security issues
In the outsourcing model, you agree to your software to be built outside your perimeter – on the external hardware and software. In such a setup, you may have some concerns about the security of your blockchain product and your intellectual property.
To avoid any breaches, have your outsourcing team sign NDAs preventing them from disclosing any information about the project and distributing any of its components. In addition, before you launch the project, specify the resources that should and should not be used in building the product – the cloud capacities, open-source tools and frameworks, APIs and libraries. Most of the existing blockchain development frameworks have internal security mechanisms, but we recommend you discuss the technology stack before the project start.
Of course, there may be top-security blockchain projects that cannot be outsourced under any conditions. Well, in this case, only the in-house option remains.
How to outsource and not to regret it
First, you need to decide where to outsource. As we mentioned already, the rates of blockchain developers in the US are relatively higher than in other regions. Thus, many companies choose to outsource to other places, and in this respect, Eastern Europe is gaining popularity.
Development companies in Eastern Europe – Ukraine, Belarus, Poland – provide a near-perfect cost-to-quality ratio with hourly rates somewhat lower than those in the US and the product quality corresponding to the global standards. Moreover, the governments in Eastern Europe, particularly, in Ukraine, treat blockchain and other crypto technologies rather favorably and encourage their adoption. Of course, this stimulates the growth and evolution of blockchain development.
Developers from Eastern Europe participate in most of the professional events and follow the trends in the global blockchain community. You can rely on them to suggest the most optimal, secure, and effective solution for your project and help you build it.
Another point that we would like to touch upon is how to outsource. In fact, there is no perfect solution, as each business has its own starting circumstances. You may have no development department at all, therefore, you will need to contract an entire team for your project.
Alternatively, you may be running in-house development, but lack blockchain and cryptography experts. In this case, you can outsource the blockchain components only, while leaving the traditional development, such as UI design, to your in-house team.
At the same time, while outsourcing, you can start training your developers to work with blockchain, as the product will need ongoing maintenance. That can be the task of your colleagues once they get the required skills.
Now, the big question – should you outsource or not? Definitely, yes, if:
This is your first blockchain project
You have no blockchain developers on board
Both of the above plus an extremely tight deadline
If you think your business can benefit from using the blockchain technology, let's talk about the details. We can help you find the most optimal platform for your solution, select the rest of the technology stack, implement the effective cryptography and security mechanisms to ensure reliable performance.
As a company with a considerable experience in delivering blockchain products for its clients, we have developed a certain culture of handling outsourced projects that creates the most productive and transparent atmosphere in our cooperation. We work with you to lay down the rules, and then we play by them. We always maintain proactive communication and encourage our clients to participate in the project development to monitor the progress.
Contact us for a free 30-minute consultation to outline the requirements to the solution and the possible ways of implementing it. Blockchain is changing the world right now, so let's be a part of it!