Windows 10 Redstone Insider seeds are on the way
01.09.16
Patience, grasshopper: According to Microsoft's Gabe Aul, a new build will come to Windows Insiders in "a few more days." Meanwhile, a new Windows 10 Mobile Insider build is now available.
If you're eagerly awaiting the next PC-centric Insider build of Windows 10, here's some good news: You can expect the next build to arrive soon.
According to a tweet posted by Microsoft's Gabe Aul, the next build will come to Insiders in "a few more days."
Aul added in a followup that "Once we actually *start* flighting in 2016, then we expect to see more frequent builds than last year." More good news.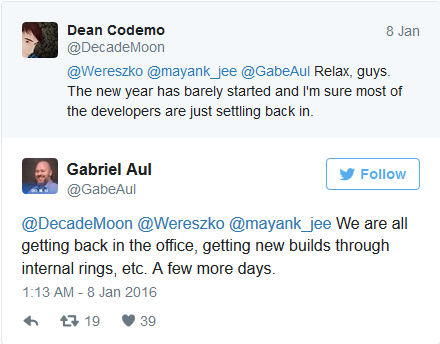 It's been a few weeks since Microsoft seeded its last build to WIndows Insider testers. According to Neowin, the most recent Insider build for PC users was a Windows 10 "Redstone" build released on December 16. Neowin also reports that Microsoft began seeding a new Windows 10 Mobile build to Insiders on Friday, the first such build since December 17.
The story behind the story: Windows 10 codenamed Redstone is Microsoft's next big revision to its flagship operating system. Due for release sometime later this year, we're still not entirely sure what Redstone will bring, but reports suggests that improvements to Cortana and support for third-party extensions in the Edge browser are on the way. Redstone may also herald the return of OneDrive's Placeholders feature, a space-saving feature from Windows 8.1 that went missing in Windows 10's initial release.
This story, "Windows 10 Redstone Insider seeds are on the way" was originally published by PCWorld.