From Blockchain to Big Data, Adoriasoft Is Serving The Needs of Clients with Perfection: GoodFirms
01.21.21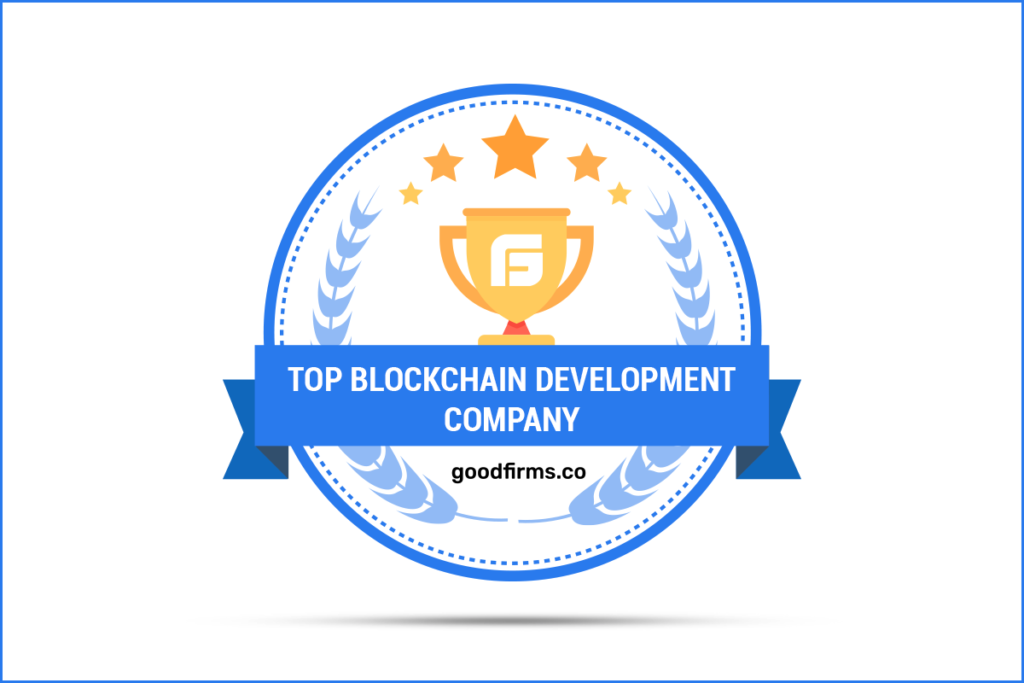 Adoriasoft can be your long-term technology partner offering blockchain solutions by utilizing advanced technologies. Their technical expertise has made Adoriasoft earn the top spot as blockchain companies at GoodFirms. Have a look at Adoriasoft to know more about their services. 
Introduction: Adoriasoft
Founded in 2008, and headquartered in the United States with a branch office in Ukraine, Adoriasoft.  The firm consists of numerous knowledgeable professionals and team engineers who always look for new and innovative technologies to deliver clients the best services. The best thing about the Adoriasoft team is, they look at any problem from the user's perspective and develop  solutions which easily strike the right chord with them, making them the trusted technology service providers. To deliver any kind of service, the company practices all the processes that are in the  development phase. This makes them deliver services from the scratch and with finesse.
The company's strength lies in its team, consisting of coders, engineers, scientists and maths experts, and other members.  The team is  well-equipped to solve all the easy and complex problems occurring in the project development phase with effortless ease. Adoriasoft works strictly on their values  which are listed below:
Supreme engineering expertise
Effective project management
Technological diversity
Technical partnership
By following these values, the company makes an all out effort to build projects and solutions from scratch with the help of their knowledgeable and well equipped team.  
GoodFirms Research Process
GoodFirms is an eminent research and review portal located in Washington DC. This portal consists of various companies that are accredited periodically to get ranked on the GoodFirms website. The companies are ranked based on three parameters Quality, Reliability, and Ability, after which they are categorized under separate categories and receive ranks on the website.
GoodFirms evaluated Adoriasoft based on these similar parameters and inferred that they are delivering outstanding services. Read below their services in detail.
Blockchain Services
Adoriasoft team of blockchain developers help clients have new business opportunities with greater transparency, enhanced security, and traceability. The firm brings ideas into reality by offering realistic solutions. Adoriasoft offers distributed ledgers and apps, assets tokenization, blockchain audit and consulting, and blockchain core R&D services in the blockchain umbrella.
Sean Murphy, a happy client rated Adoriasoft with 5-star rating. His detailed review can be read below.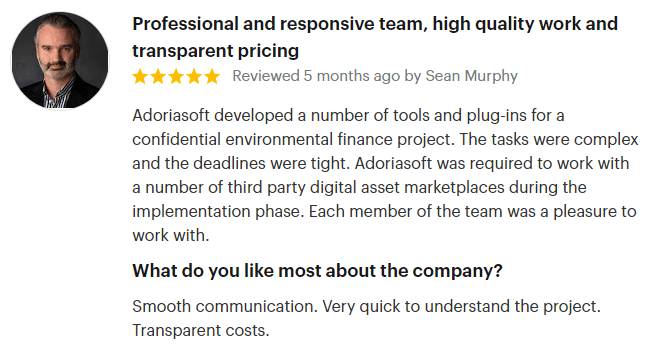 The firm does extensive research to offer services like design and study of network security mechanism, design and creation of the blockchain architecture, design, and research of consensus protocol, continuous research & development based on the previous researches, analysis of the blockchain, improvement suggestion, analysis of white/ yellow paper, and finally testing of the implementing options. The core R&D team's services add value to business and provide an edge to them in the blockchain area. Thus, for offering services to expand clients' business, Adoriasoft is ranked amongst the top blockchain developersat GoodFirms.
Software Development
The Adoriasoft team of software developers primarily focus on offering great services to clients across various niches. The team assists startups and mid-sized businesses to have the latest technology software for their business. With transparency and commitment, Adoriasoft offers professional software development services. So, the software team follows all the latest trends and technologies to provide clients with the best software solutions. 
Plus, the firm's research capability in every field gives them a competitive advantage to provide visionary services. Every software solution developed by Adoriasoft is well integrated with responsive design and is well tested. Thus, assisting companies with tailor-made software, Adoriasoft holds a position as one of the top software development companies in Ukraineat GoodFirms.
Big Data Services
Data has a lot of value when used effectively; it can help companies make the right decisions. Data also helps to automate every process and make future decisions. Adoriasoft keeps a keen eye on clients' data and facilitates its use to offer clients profitable solutions. 
The process of big data starts with processing, analysis, predictions, visualization, and data warehousing. After following these processes systematically, the company ensures offering secure big data solutions. With the help of big data solutions, they offer result-driven solutions for the clients' business's effective functioning. Furthermore, they also provide an easy visual representation of data in the form of charts and presentations that's easy to understand. Thus, for accurately predicting data and allowing clients to make informed decisions, Adoriasoft is expected to rank as one of the top big data companies in the USAat GoodFirms.  
About GoodFirms
Washington, D.C. based GoodFirms is an innovative B2B Research and Reviews Company that extensively combs the market to find top Blockchain services, Software development, and Big data Services firms that offer the best services to its customers. GoodFirms' extensive research processes help rank the companies, boost their online reputation, and helps service seekers pick the right technology partner that meets their business needs.
About the Author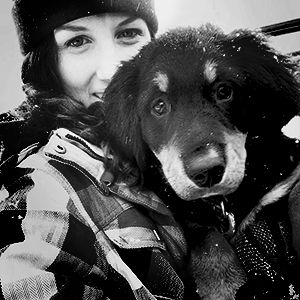 Anna Stark is a staff writer with GoodFirms – a Washington D.C. based B2B Research Company that bridges the gap between service seekers and service providers. Anna's current role includes gauging companies' performances and their key attributes and putting them into words. She firmly believes in the magic of words and is always on the lookout for new strategies and ideas that companies have gladly embraced, and then helps them shine a light on those to make their identities shine brighter.