Custom Software Development Services 2017
01.05.17
In 2017 a demand for professional custom software development services will continue to rise. What's remarkable is that exponential growths actually characterizes the trend. According to the IDC report, the market for information technology has been forecast to reach $2,252.9 billion in 2016. The graphic below also depicts that this year worldwide IT spending will result in $2,321.5 billion.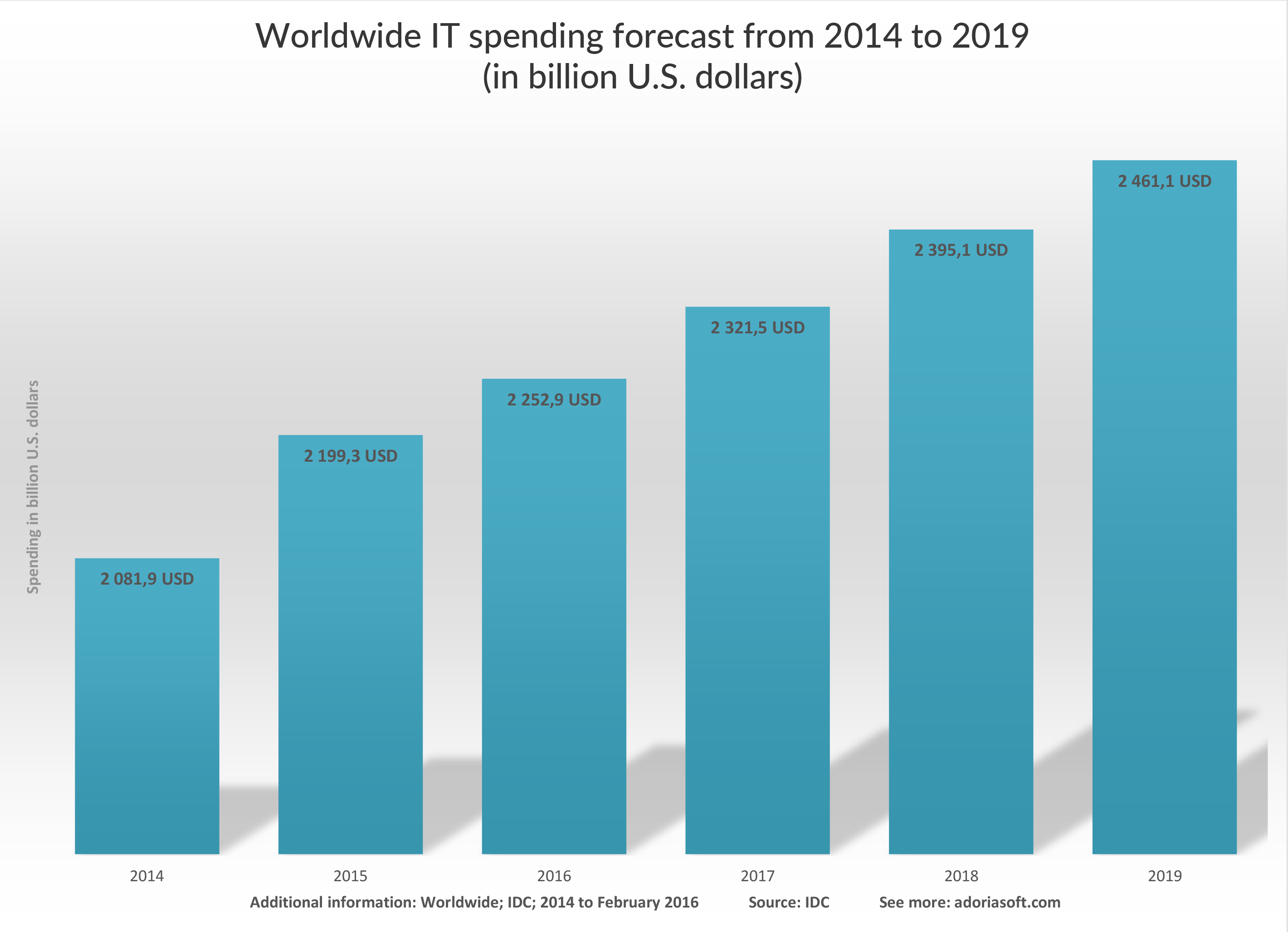 Custom software development services, which will be most interesting for clients to order worldwide in 2017 include agile web development, mobile app development and cloud computing development. Companies will also seek contractors that are able to provide software quality assurance, desktop development, cross-platform app development services and, of course, UI/UX design too.
Custom Software Development Services 2017: Agile Web Development
Agile web development today is one of the trendiest IT services, which outsourcing custom software development companies offer their clients. It's very hard to find a firm without a presence online. There are over 1.1 billion websites in the Internet today, and this number continues to grow. Main stages of web development, and namely website development, are data collection (target audience, main purpose of the website), sitemap, wireframes creation, actual layout design, content creation, coding and testing, SEO optimization and launch.
Custom Software Development Services 2017: Mobile App Development
According to the SmartInsights report, 80% of Internet users own a smartphone. Moreover, Nielsen and Flurry Analytics state that 90% of time spent in mobile devices account for mobile apps, while the rest 10% – for mobile sites. With the global mobile usage and mobile advertising spending on the rise it makes a perfect sense for companies to develop mobile apps. Mobile app development for Android OS is widely spread. It's no surprise, because Google's mobile operating system is more open than iOS from Apple. Also mobile devices with Android OS are less costly than iOS devices. In addition, IDC reports that Android dominates the smartphone market with huge 86.8% share.
Moreover, when firms would like to order mobile app development services they should take into account the target market of their app. Hence if the company orders iOS mobile app development then perfect countries to target with that app will be USA, Canada, Australia, New Zealand, Scandinavian countries, France, United Kingdom and Japan. An Android app is better to promote in China, Russia, India, Eastern Europe, Italy, Spain, Egypt, Singapore, Brazil, Argentina, Mexico.
Custom Software Development Services 2017: Cloud Computing Development
Cloud computing development and cloud apps development evolve quickly. Cloud market grows at 28% annually. So to remain competitive and succeed companies need to adopt cloud technology as soon as possible. To order professional cloud computing development services is the right thing to do in 2017. The graph below shows that public cloud revenue will reach $117 billion U.S. dollars. Constant public cloud market drivers are industry customization, geographic expansion, enhanced security, expansion of professional and managed services.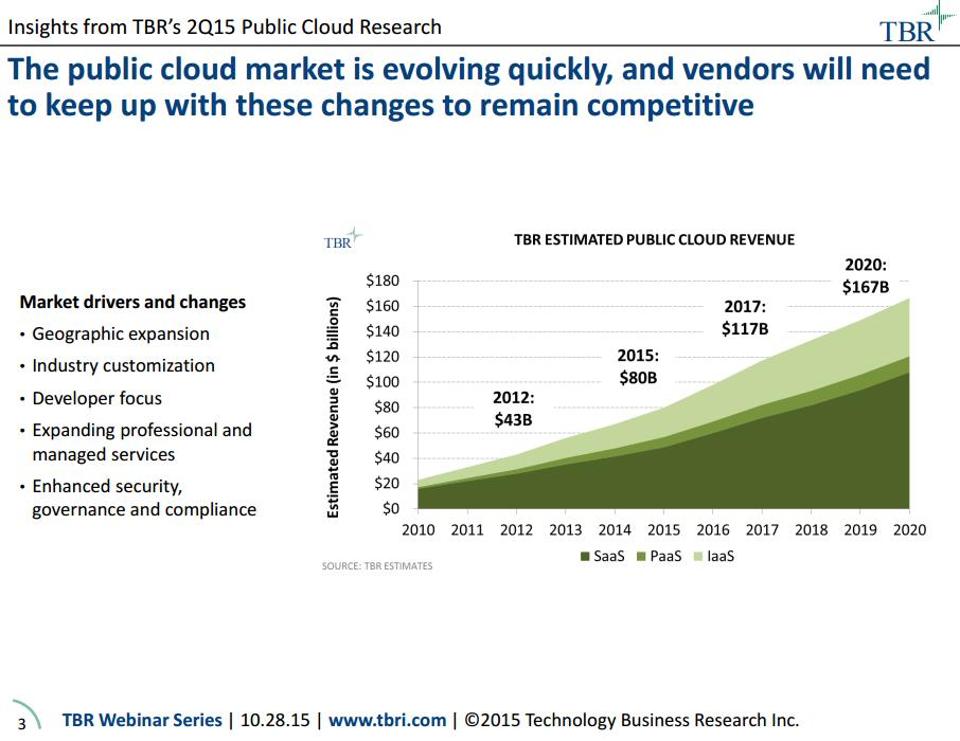 Custom Software Development Services 2017: Software Quality Assurance
Software quality assurance services are important for companies that require professional testing of their software solutions. Generally there are two types of software testing: functional and non-functional testing. Functional testing consists of four parts: unit testing, integration testing, system testing, acceptance testing. QA Engineers conduct non-functional testing against non-functional requirements. It consists of performance testing, security testing, usability testing and compatibility testing. Often outsourcing custom software development companies offer both functional and non-functional software testing services.
Custom Software Development Services 2017: Desktop Development
Global demand in desktop development services has declined. Obviously the reason is that global Internet consumers prefer to spend time in mobile phones over desktop computers. According to Zenith's forecasts, Internet users worldwide will spend 100 minutes daily on mobile web in 2017. Only 30 minutes will be spent by Internet users daily via desktop computers online. That's why desktop development becomes a secondary custom software development service to order for many companies this year and years to follow.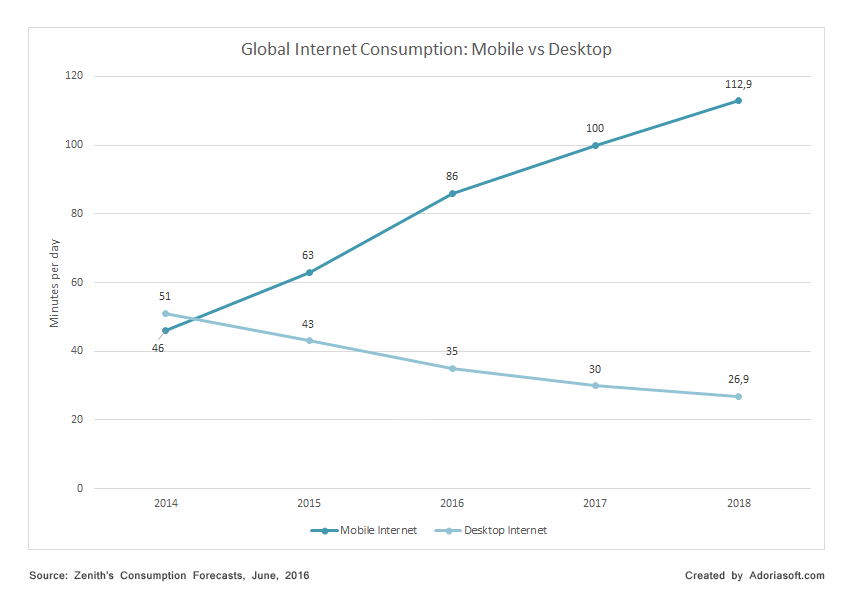 Custom Software Development Services 2017: Cross-platform App Development
Firms usually order cross-platform app development if they want their mobile apps to work both on Android and iOS devices. Though there's a number of limitations regarding functionality of such apps. Thus many clients choose to develop their app for just one OS first. Anyway cross-platform app development is very common and developers can implement it using special tools. When developing a cross-platform mobile app developers need to understand goals of a client's business. Based on that information developers make a choice of the needed cross-platform app development tool. Most popular tools are PhoneGap, Sencha, Unity 3D, Corona, Qt, Appcelerator Titanium, Xamarin, Alpha Anywhere, 5App. Other cross-platform app development tools include Kinvey, Mag+, Xojo, Dropsource, Yapp, Kony, GameSalad etc.
Custom Software Development Services 2017: UI/UX Design
The way an application or website looks and feels plays a vital role in the success of any online business. User experience design and user interface design work back-to-back to enhance satisfaction of users with a mobile app or website. UI design focuses on making users' interaction with an application or website as easy and intuitive as possible. User interface design aims to maximize usability. User experience design ensures that users achieve their goals with the product, app or website the fastest way. Elements of user experience design are interaction design (also known as visual design), user research, information architecture. Important parts of user interface design are typography and graphic design.
UI/UX design comprises of a variety of services that outsourcing custom software development companies can provide. Wireframes, storyboards, logos and corporate identity, landing page layouts, banners, animated videos, ebook covers, whitepapers, infographics creation are UI/UX design services to order in 2017.
Adoriasoft is one of the best custom software development companies that provides all of mentioned custom software development services worldwide. Our developers, designers, engineers are experts in Android app development, iOS app development, cloud development, software testing and many other aspects of modern IT. Contact us now to get instant estimation of your project!