Adoriasoft + ConsenSys: Developing Partnerships
12.25.20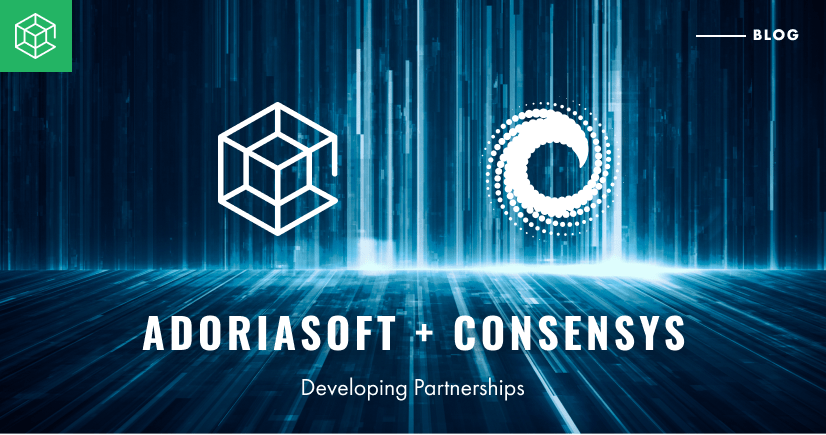 Building partnerships drives growth. Here at Adoriasoft, we're excited to announce our new partnership with blockchain pioneers ConsenSys.

Our software engineers and blockchain experts will now be able to take advantage of the suite of developer products offered by ConsenSys. Their tech works across a range of sectors, with finance, data security, and networking opportunities abound.

By linking up with the technology offered by ConsenSys, Adoriasoft is joining the wave of innovation sweeping across our sector. Blockchain is only a little over a decade old, but the power and simplicity it offers has begun to revolutionize the world, and we're ready to move to the next phase.
Where Adoriasoft is going
As a boutique software company, we design tools, systems, and apps that put our clients at the forefront of their industry. Distributed ledger technology is embedded in our work – we recognize the value and put it at the heart of our systems. 
We aim to push the limits of what can be achieved with blockchain. It's far more than digital currency. Our blockchain work covers:
Blockchain Core R&D
Distributed Ledgers And Apps
Assets Tokenization
Blockchain Audit And Consulting
Along with a host of other technologies. 
Innovation courses through our team. Between our developers, engineers, managers, and creatives, we work to break down barriers and find new ways to make blockchain into an answer for our clients. 
These values that we live by are the reason why we've launched out partnership with ConsenSys.
Who are ConsenSys?
Founded by Joseph Lubin, ConsenSys is on the crest of the blockchain wave. Does his name sound familiar? He also co-created Ethereum – a powerful and versatile blockchain that anyone can build on and where ConsenSys comes to life. 
The software that ConsenSys offers are foundational to harnessing what blockchain can do. Partners get access to systems such as:
Quorum for building applications
Codefi to power commerce and finance
Diligence smart contracts audit
Opening up new possibilities with the building blocks for apps already in place. 
As partners with ConsenSys, we're able to access the benefits of their partner program. As technical partners, we will get privileged access as early adopters of new systems, access to novel integration tools and assistance, an exclusive product support portal, and advanced testing and training opportunities.
Value in partnerships
At Adoriasoft, we're ambitious. Tapping into the potential that's offered as a partner with ConsenSys opens options to us as developers that can be passed on to our clients. 
"We're about creating something fresh that will meet our clients' needs in unique ways. Working with ConsenSys gives us more opportunities to find new solutions and do things in better, more effective ways. Adoriasoft will be working on some cool new projects using their products" said our CEO Vlad Kostanda.
With the ambition and drive that characterizes Adoriasoft paired with the value of ConsenSys' expertise, we're ready to see where our work will take us.