Adoriasoft and Website Planet Discuss Blockchain, Research, and the Future of Distributed Tech
08.21.21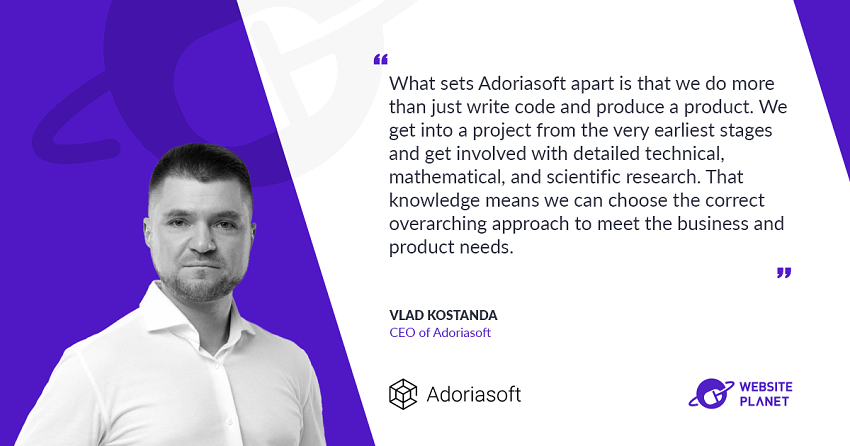 Blockchain development is at the core of what we do here at Adoriasoft and we've recently been privileged to share our work and passion with the web services site Website Planet.
The team review tools and services that people can use to create websites, from simple WordPress sites to more complex pages with detailed coding and security requirements. Their experts know what they're looking for when it comes to:
Website hosting
Choosing the right server
Tools to help users create a website
SaaS to create website content
Adoriasoft's focus is on the fundamental building blocks of emerging tech like blockchain and artificial intelligence. These ideas are becoming more mainstream and accessible to online businesses, so we sat down with Website Planet to discuss what our boutique blockchain development company can do. More specifically, our CEO and founder, Vlad Kostanda, spoke with Marko Velimirović, a writer and website developer. They talked about a range of topics, including what we offer and the passions of our expert team.
Speaking of services
The conversation kicked off talking about the range of services we offer, including our track record of research and development in blockchain and distributed ledgers.
Along with R&D across blockchain tech such as:
Ethereum
Polkadot
Cosmos
Bitcoin
Hyperledger Fabric
Hyperledger Besu
IPFS
Vlad also talked about our auditing services.
"We offer blockchain consulting and security auditing to ensure there are no bugs or backdoors in tech developed by colleagues in the industry," he explained.
Discussing the emerging trends that Adoriasoft work in, he said, "we've got a strong track record in DeFi apps development and work with NFTs, which have just recently become a major talking point in the blockchain world."
Adoriasoft's ideal customers
At Adoriasoft, we work across a range of industries and niches, all with a need for the security and immutability that's at the core of blockchain technology.
Our work covers use cases in sectors like:
Finance
Healthcare
Retail
Insurance
And produces deep research as well as dApps – distributed applications using smart contracts.
Along with the start-up and scale-up businesses we work with, we went into detail about the infrastructure projects we work on.
Talking of the work done for the Web3 Foundation, Vlad said, "We've developed Cosmos SDK Parachain Development Kit that allows developers to host their existing Cosmos-based chains on the Polkadot ecosystem as parachains, secured by the Polkadot Relay Chain and benefiting from Polkadot's interoperability stack."
Talking about the future
Finally, Marko quizzed Vlad on what he anticipates for the future of Adoriasoft. Work on Polkadot and Cosmos are definitely important to the long-term future of both our boutique software agency, but it's not the only thing we're excited about.
Speaking of the work our data scientists do, "Our machine learning team is creating models for content processing and finance. We really enjoy working with data and experimenting to design, test, and produce neutral networks and give the client a machine that caters exactly to their needs."
Our expertise and experience in the field of dApps, data security, and machine learning places us well to meet the future needs of web and software developers alike.